Unicom tapping into big data
By Ma Si | China Daily | Updated: 2017-09-26 08:21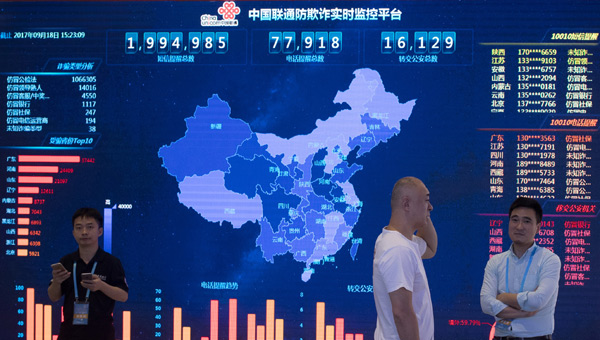 An anti-fraud platform of China Unicom at a cybersecurity expo held in Shanghai. [Photo by Gao Erqiang/China Daily]
China United Network Communications Group Co Ltd, the country's second-largest mobile carrier by subscribers, set up a big data company on Monday, as it accelerates partnerships with new strategic investors.
Wang Xiaochu, chairman of China Unicom, said its $11.7 billion ownership reform plan will be completed as soon as possible, with all the investments expected to be in place by the end of this year.
"We are going through the last regulatory process, which will be completed in around one month," Wang said.
The State-owned company said in August that its Shanghai-listed unit plans to raise funds from more than a dozen major investors with 35.19 percent of shares, including Tencent Holdings Ltd, Baidu Inc, and Alibaba Group Holdings Ltd. The move is part of China's broad push to revitalize State-owned companies with private money.
China Unicom set up a new unit, literally translated as China Unicom Big Data Co Ltd, on Monday, in order to tap into the booming local market.
Jiang Zhengxin, deputy general manager of China Unicom, said the new unit is positioned as the major platform for the group to cooperate with strategic investors in the big data business.
"It will get deeply involved in the mixed ownership reform by seeking deeper cooperation with our investors, such as sharing resources and exploring markets," Jiang said.
The company has been in the big data industry for five years, accumulating experience in data, platform, products and service. It now has around 100 employees working in areas related to the big data business.
Xiang Ligang, a telecom expert and CEO of telecom industry website cctime.com, said that access to China Unicom's basic telecom infrastructure resources, such as servers and bandwidth, can greatly assist Tencent and Alibaba's cloud computing and other businesses.
"China Unicom can also benefit considerably from internet players' marketing and product research and development capabilities," Xiang said.
Last October, Tencent and China Unicom jointly launched low-cost data traffic packs, which attracted 20 million users within six months.
China Unicom on Monday also signed up to a partnership with UnionPay, a major payment service provider in China. The two sides will cooperate in data resources, technological capabilities and products.
China Unicom is in stiff competition for market share with China Mobile Ltd and China Telecommunications Corp.