iPhone 8 greeted with less enthusiasm
By Cheng Yu and Ma Si | China Daily | Updated: 2017-09-26 09:10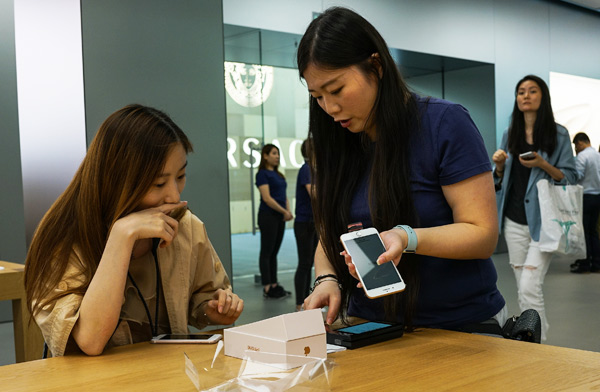 A woman buys an iPhone 8 Plus at an Apple showroom in Shanghai on Friday. The Apple iPhone 8 and 8 Plus have gone for sale in China starting Friday. [Photo/Agencies]
The magic of the iPhone brand seems to be fading in China as consumers in the world's largest smartphone market greeted Apple Inc's latest handsets with less than the usual level of enthusiasm.
The relatively weak response came as the country's homegrown brands, such as Huawei Technologies Co Ltd and Xiaomi Corp, are pushing up-market, experts said.
On Monday, in Beijing's Sanlitun Soho, the capital's popular shopping area, Apple's flagship store experienced a slimmer turnout with only one short line of people queuing outside the store to get a try for iPhone 8 or iPhone 8 Plus, which went on sale on Friday.
Inside the store, there were crowds of customers surrounding the desk, but many were there to test the models rather than expressing a commitment to buy. And the store still had plenty of space for more consumers.
The response was in stark contrast to previous years, when hundreds of people hustled and bustled in the stores and queues of people circled around outside.
A security guard at the Apple store said: "The lines are far shorter than those of previous years. I had always been extremely busy when new flagship gadgets were released, but I am apparently not so occupied this year."
Also, not many scalpers were seen outside the store and they are not enthusiastic this year as they didn't rush to solicit businesses.
"We didn't sell much today, even with 100 or 200 yuan ($15-30) off," said a scalper outside an Apple store.
Jia Mo, an analyst at global consultancy Canalys, said consumers have less enthusiasm toward the new iPhone 8 this year. One of the reasons is that local rivals including Huawei, Oppo, Vivo and Xiaomi can give users a better experience by offering high-end features with a lower price," he added.
"Another reason is that consumers are waiting for iPhone X, the tenth-anniversary edition iPhone. When they already have a high-price device, they prefer to wait for the best one, rather than buying one that is brand new but not the latest," he added.
Xiang Ligang, CEO of telecom industry website Cctime, said the iPhone is still one of the most preferable high-end devices in China, though far less popular than before, amid mounting competition from local players.
Charlie Zhang, who bought an iPhone 8 on Monday, said he opted out of domestic smartphones, because they are running on Android systems that are easy to crash.
Li Jiayue contributed to the story.
Contact the writers at chengyu@chinadaily.com.cn