Cargo companies will let the train take the strain
By Jing Shuiyu | China Daily | Updated: 2017-09-28 07:45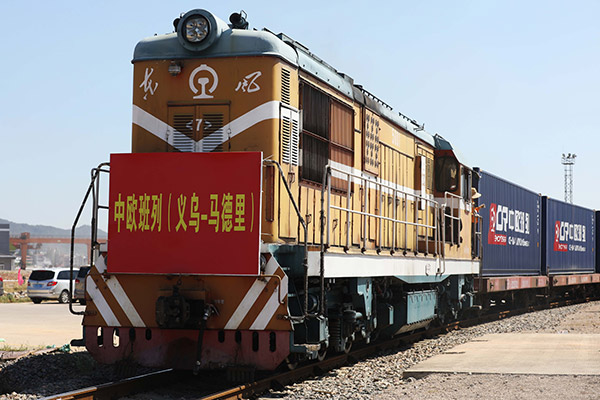 A freight train, which travels between Yiwu, Zhejiang province, and Madrid, in Spain, is parked in Yiwu. [Photo/China Daily by Zhu Xingxin]
Rail routes to Europe expand as part of Belt and Road Initiative, boosting trade and opening markets
You could hear the cargo train rattle through the East China city of Yiwu on its way to Prague, the capital of the Czech Republic.
Loaded with 88 containers of clothing, shoes, hats and assorted Christmas items, it passed through Kazakhstan, Russia, Belarus and Poland during its 16-day journey in September.
A month earlier, the first freight train service from Prague arrived in Yiwu, Zhejiang province, to become the network's ninth major European destination.
"To further boost China's trade with those economies participating in the Belt and Road Initiative, the local government plans to set up a trading center in Yiwu to exhibit Czech products to Chinese customers," said Jin Gengzhong, deputy director in charge of the city's land port and logistics management.
"We will also establish a distribution center in the Czech Republic, as well as in Spain," Jin added.
Local governments and companies in various parts of the country are looking at ways to turn the China Railway Express, as it is known, into a sustainable freight train service between the world's second biggest economy and Europe.
Part of the Belt and Road Initiative, the network is divided into three main routes.
One heads west through the Alataw Pass in the Xinjiang Uygur autonomous region, while another goes east via Manzhouli Port in the Inner Mongolia autonomous region.
Finally, the central route runs through Ereenhot Port in the Inner Mongolia autonomous region.
Still, transporting goods by rail is relatively small compared to the oceans' highways. More than 90 percent of world trade is carried by the international shipping industry, figures released by the International Chamber of Shipping showed.
To win a larger slice of the business, freight rail companies are tailoring and upgrading their services for clients.
Wuhan Asia-Europe Logistics Co Ltd has rolled out an initiative to expand its presence.
The State-owned firm operates rail freight services between Wuhan, the provincial capital of Hubei province, and European countries.
"The company is planning to set up a logistics park in northwestern Wuhan, and a distribution center in the Republic of Belarus," said Xie Qi, deputy general manager at Wuhan Asia-Europe Logistics or WAE.
"We are doing this so we can shift from a pure logistics company to a trading company," Xie added.
Earlier this month, WAE sent its first refrigerated containers to the West. Included in the cargo to Duisburg in Germany were Chinese craft products for a company importing candles for mainly European customers.
Products like these have to be kept at certain temperature and humidity levels. Technicians were even on board the train to make sure nothing went wrong.
But then during the past five years, China has wheeled out 5,500 freight train services linking the country with European markets, China Central Television has reported.
"By mid-September, freight trains had connected 33 Chinese cities with 32 cities in 12 European countries," CCTV stated.
Obviously, international cargo transportation is dominated by shipping companies when it comes to volume of goods for distant destinations, according to Cargo from China, a shipping provider.
Air freight is popular for perishable products such as food, precision instruments, and medical equipment and medicines.
Yet there is still a major role for rail freight services.
"Trains are capable of transporting large numbers of containers," said Bao Yuefei, vice-president of Yiwu CF International Logistics Co Ltd. "Generally, they have a direct route to the destination, while goods transported by rail are more economical and energy efficient than by road."
"If a client chooses rail freight from China to Europe, he can save about 70 percent on costs compared with air transportation," Bao added. "The transit time will also be approximately 50 percent shorter compared to sea transportation."
One Chinese importer of Czechic crystal glasses and trays reported that it took about 14 days for his order from the Czech Republic to be delivered by rail freight to Yiwu. "Only a few glasses were damaged," he said.
A second delivery is expected later this month.
"The operation still faces challenges," said Fang Xudong, deputy general manager of Yiwu Timex Industrial Investment, the operating company of YXE International Container Train.
"There is vicious competitions, as more sizable cities in China are planning to have their own China-Europe direct train," Fang added. "We hope companies do not get involved in price wars and put the emphasis on improving efficiency."