President: Use traits of village to prosper
By XING WEN | China Daily | Updated: 2017-09-30 06:44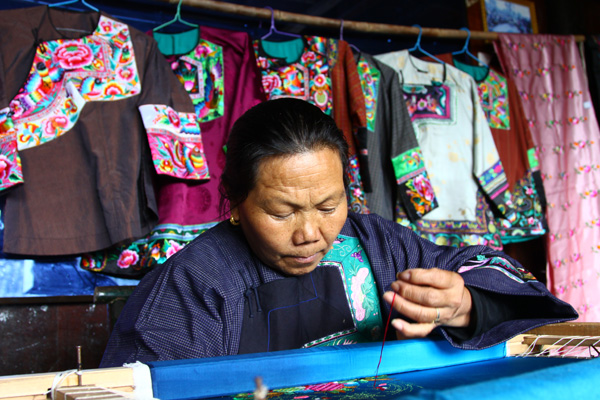 Shi Shunlian of Shibadong village in Hunan province makes Miao embroidery at home. A company helps women market their traditional products for extra income. [Photo by CHEN ZEBING/CHINA DAILY]
A sinuous paved mountain road leads to the village of Shibadong in Xiangxi Tujia-Miao autonomous prefecture, a place that marks President Xi Jinping's first use of the strategy of targeted poverty alleviation.
During Xi's stop at the village in Hunan province on Nov 3, 2013, he said efficient measures for targeted poverty alleviation should be adopted on the basis of the village's reality. The village then aimed to forge itself into the "most beautiful village in China" by protecting its natural environment and indigenous culture.
Neat flagstone pathways and steps link frame houses in the village, which has erected eye-catching signboards with Miao culture notes in both Mandarin and Miao.
To keep indigenous culture alive, an arts group has been formed with villagers adept at singing Miao songs, playing the drum, climbing a "ladder of knives" and other traditions of the ethnic group. Yang Chaowen, 44, an arts group member, said they stage performances and ceremonies.
"We have over 30 villagers in the group. Most of us are versatile enough to sing, dance and play the drum. I really enjoy preparing for the shows, which have enriched my daily life remarkably."
Long Shuwu, Party secretary of the village, said the shows also have strengthened cohesion, making many poverty reduction strategies easier to implement.
Yang, who used to be in the clothing business in Zhejiang province, returned to his hometown after Xi's visit to Shibadong. "The top leader of my country cares about my home village, which gives me strong confidence to put aside the migrant life and reach for a well-off life with my family." He and his uncle are opening a farmhouse restaurant, many of which are popping up.
Locals said now more people are willing to work or run a business in their village rather than migrate to other places, even if they're young. Shi Jun, 19, a clerk at the Xiangxi Changhang Village Bank, said he felt content about his work. He earns 2,000 yuan ($300) a month and still has time to take care of his grandmother.
The local post office displays exquisite bags with Miao embroidery produced by a Miao cooperative in the village and Jintian National Cultural Diffusion Co in Huayuan county, where the village is located. It's easier for local women to earn money through a company like Jintian-anyone who wants to buy one of the bags displayed at the post office can simply scan a QR code on the counter and use a mobile payment application.