50,000 protesters gather in Manchester as May's Conservatives start their conference
Xinhua | Updated: 2017-10-02 08:53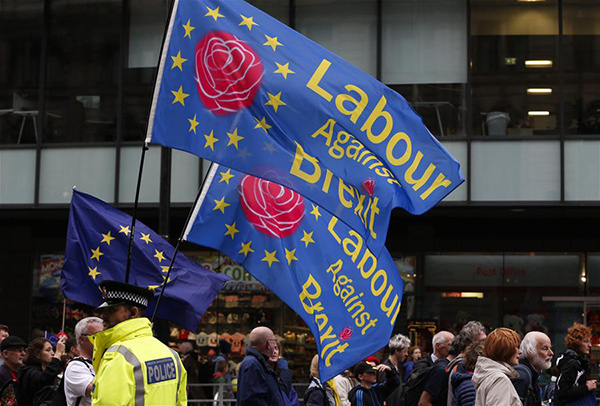 People take part in a demonstration in central Manchester, Britain, on Oct 1, 2017. [Photo/Xinhua]
LONDON - British Prime Minister Theresa May outlined new proposals Sunday to win support from younger voters after many backed the rival Labour Party.
May's bid to woo thousands of disaffected students came on the first day of the Conservative party's annual conference in Manchester.
Tens of thousands of protestors converged on the northern England city, with a number of rallies organized by anti-Brexit groups and activists demanding an end to the Conservative austerity measures.
Local media in Manchester reported that 50,000 people were expected at the various rallies during the day.
Around 1,000 police officers were on duty forming a security shield around Manchester Central, the one-time railway terminal where the conference is taking place over the next four days.
A heavy presence of armed police were on duty outside the nearby baroque-style four-star Midland Hotel which has become May's conference headquarters.
This year's terror bombing at the nearby Manchester Arena, in which 22 people were killed by suicide bomber Salman Abedi, has heightened security precautions around the conference. The security operation is costing police almost 2.7 million US dollars.
In a major interview in the Sunday Telegraph newspaper, May announced the freezing of university tuition fees at 9,250 pounds (12,400 US dollars) a year. She also plans to raise the threshold so students won't start paying back their debt until they earn over 33,500 US dollars a year.