US team plays Guangzhou in preseason
chinadaily.com.cn | Updated: 2017-10-04 09:30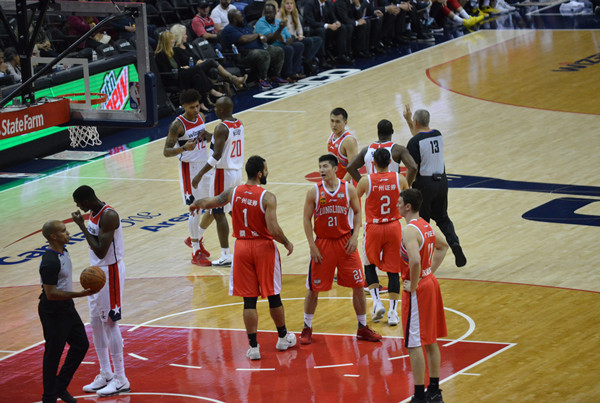 Guangzhou Long-Lions of the Chinese Basketball Association play against the NBA's Washington Wizards at the Wizards' 2017 preseason opening game Monday night. YUAN YUAN / FOR CHINA DAILY
WASHINGTON — The Washington Wizards kicked off its their 2017 preseason, winning 126:-96 against the Guangzhou Long-Lions of the Chinese Basketball Association Monday night, a rare reunion with a Chinese professional basketball team after nearly 40 years.
Back in 1979, the then Washington Bullets was the first NBA team to visit and play in China. "It was a great thrill for us to be there. We had a fantastic trip — we started in Beijing and went to Shanghai. We learned a lot about the Chinese people, culture, and your fantastic country," said Jerry Sachs, general manager of Washington Bullets at that time.
Zhong Naixiong, owner of Guangzhou Long-Lions, was a 15-year-old student then and still remembered how excited he was when Washington Bullet the team visited China.
"We, the Chinese basketball fans, didn't know that there was an NBA with some of the best teams in the world until their sensational, and eye-opening visit," Zhong added.
Now that he took has the opportunity to bring his whole team to NBA to compete, he believes the trip will benefit everyone the whole team.
"We come here to learn. It was almost unthinkable in the past that we could actually compete in NBA's preseason games.," Zhong said. "But now with us playing here, you can see that China has become a favored market of NBA,." Zhong said.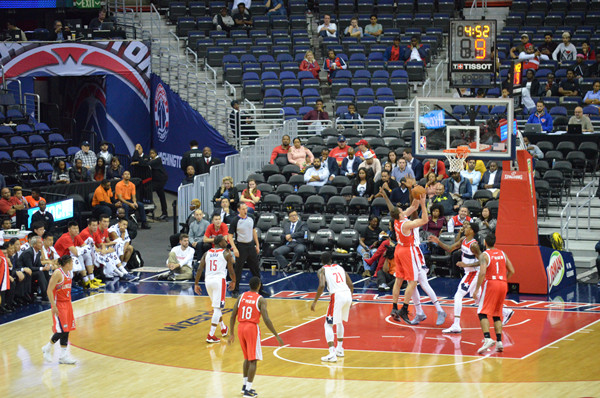 Guangzhou Long-Lions of the Chinese Basketball Association play against the NBA's Washington Wizards at the Wizards' 2017 preseason opening game Monday night. YUAN YUAN / FOR CHINA DAILY
Basketball is among the most popular team sports in China. More than 750 million people in China watched NBA programming on TV during last season, according to a Xinhua News story in June.
"We are honored to have these guests, too," said Tommy Sheppard, senior vice president of basketball operations at for the Washington Wizards. "The growth there (in China) is tremendous."
"It's a great opportunity for the two teams to come and to cultural exchange certainly, but it's all about basketball, and basketball is an universal language," Sheppard continued.. "We know exactly how they feel, they know how we feel, how it feels to get ready for a game, how it feels when you lose a game, how it feels when you win a game, so we have that same commonality." Sheppard said.
For Fan Ziming, center of for the Long-Lions, to play against the Wizards is a golden opportunity chance to try out NBA's intensity, gain some experience and learn a thing or two from his opponents.
"The things I learn from this game will help with my basketball career as well," Fan he said.
Later this week, NBA teams Golden State Warriors and Minnesota Timber wolves will face off respectively in Shenzhen and Shanghai on Thursday and Sunday respectively.
Yuan Yuan in Washington contributed to the story.