Xi sends condolences to Trump
By ZHANG YUNBI | China Daily | Updated: 2017-10-04 06:25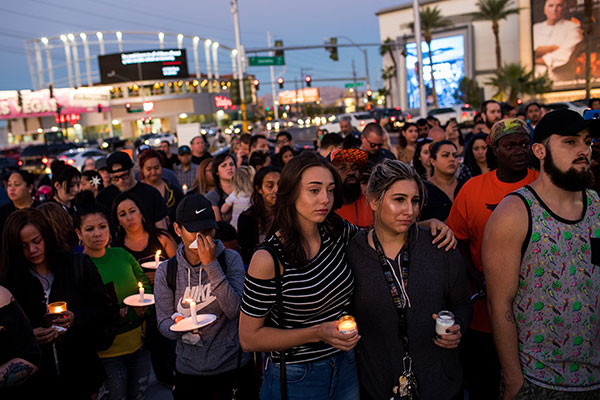 Mourners attend a candlelight vigil at the corner of Sahara Avenue and Las Vegas Boulevard on Monday for the victims of Sunday night's mass shooting in Las Vegas, Nevada. DREW ANGERER/GETTY IMAGES/AFP
Netizens express sympathy over Vegas shooting, concerns about travel safety
President Xi Jinping sent a condolence message to his United States counterpart Donald Trump on Monday over heavy casualties caused by the mass shooting in Las Vegas, Nevada.
A gunman opened fire on a country music concert there on Sunday night, killing at least 59 people and injuring more than 500 others in the deadliest mass shooting in modern US history.
In his message, Xi extended deep sympathy to the US government and people, profound condolences to the victims and sincere solicitude to those wounded, and said he wished for a quick recovery for the injured.
No casualties were reported among Chinese citizens visiting Las Vegas at the time of the shooting, according to a Tuesday news release by the Chinese consulate general in San Francisco. The consulate general sent a team to Las Vegas on Monday to check on possible casualties among Chinese.
The team met with and reminded Chinese tourists there to travel safely and watch for safety alerts issued by Chinese diplomatic missions and local governments.
Las Vegas has become a popular destination of Chinese tourists, and celebrations are held there each year to mark the Lunar New Year. Many tourists go there during China's National Day holiday.
The incident has alarmed the entertainment and gaming industries and evoked sympathy and discussion in China. Macao authorities beefed up security measures at gaming facilities, the special administrative region's gaming watchdog said on Tuesday.
The Gaming Inspection and Coordination Bureau of Macao said after the Las Vegas shooting, it immediately contacted the six major gaming enterprises and asked them to keep alert and boost security.
The bureau also decided to meet with those companies after the National Day holiday.
On the Sina Weibo social network, many netizens posted emojis of lighted candles to express condolences.
Microblogger @Anhaosuanbusuanzuihao wrote on Tuesday, "praying and mourning" over the tragedy and added, "Tomorrow it is believed will be better".
"God bless Las Vegas", microblogger @Harry_Yishi wrote on Monday.
Some potential Chinese travelers to the US voiced their concerns over safety caused by easy access to guns.
Microblogger "cindylynch" wrote, "Hopefully this kind of thing will never happen again. (If there's no tougher control on guns, I would not be bold enough to take a US trip)".