Trump lauds Vegas victims, doctors, police: 'amazing people'
Updated: 2017-10-05 05:20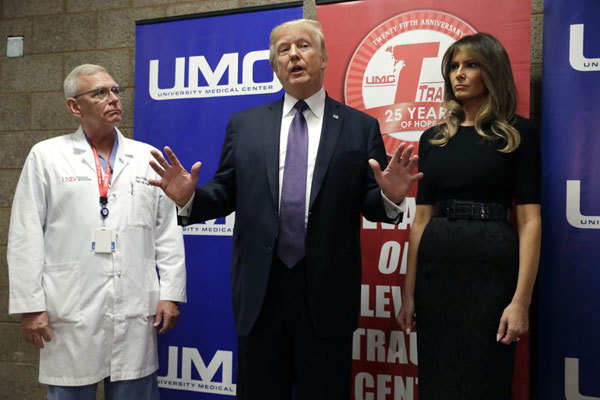 US President Donald Trump talks as first lady Melania Trump and surgeon Dr John Fildes listen at the University Medical Center in Las Vegas on Wednesday after Trump met with survivors of the mass shooting on Sunday. [Photo/Agencies]
LAS VEGAS — President Donald Trump and first lady Melania Trump met privately with victims of the Las Vegas shooting at a hospital on Wednesday, praising them and the doctors who treated them as he visited a city still reeling from the worst gun massacre in modern US history.
He also met with first responders who'd been on duty Sunday night, telling them: "You showed the world and the world is watching, and you showed what professionalism is all about."
Air Force One landed at the airport near the famed Las Vegas strip on a bright, sunny morning just days after a gunman on the 32nd floor of a hotel and casino opened fire on people at an outdoor country music festival below. The Sunday night rampage killed at least 59 people and injured 527, some from gunfire and some from a chaotic escape.
Trump's first stop was the University Medical Center, where he spent 90 minutes meeting privately with victims, their families and medical professionals.
Speaking to reporters from the lobby of the University Medical Center lobby, Trump said he'd met "some of the most amazing people" — and had extended some invitations to visit him in Washington.
He also commended the doctors who'd worked to save them for doing an "indescribable" job.
"It makes you very proud to be an American when you see the job that they've done," he said.
Trump then headed to the Las Vegas Metropolitan Police headquarters, where he met with police officers, dispatchers, and others who'd responded to the shooting.
On his trip from the airport, the president's motorcade drove past the Mandalay Bay hotel where the gunman fired down into the concert crowd.
"It's a very sad thing. We are going to pay our respects and to see the police who have done really a fantastic job in a very short time," Trump told reporters before departing the White House. "It's a very, very sad day for me personally."
The president also drove past his own Trump hotel.
Trump's trip to Las Vegas follows his Tuesday travel to hurricane-ravaged Puerto Rico.