US Secretary of State Tillerson denies rumor of resignation
Xinhua | Updated: 2017-10-05 19:08
WASHINGTON - US Secretary of State Rex Tillerson on Wednesday denied rumors that he had criticized US President Donald Trump in private and considered resigning during the summer.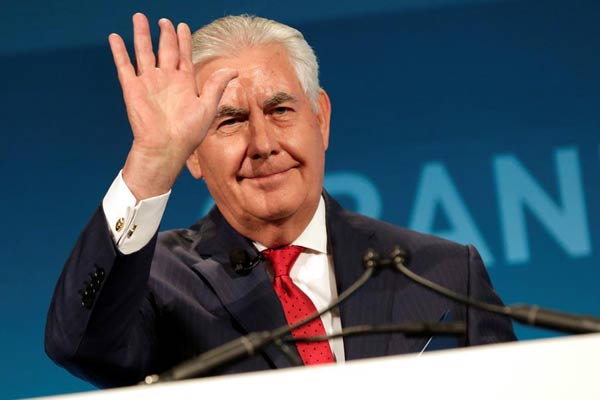 US Secretary of State Rex Tillerson waves at the 13th Annual Grand Challenges Meeting co-hosted by the Bill & Melinda Gates Foundation in Washington, US, October 4 2017. [Photo/Agencies]
"The vice president has never had to persuade me to remain as secretary of state because I have never considered leaving this post," Tillerson told a press briefing at the State Department, referring to vice president Mike Pence.
"My commitment to the success of our president and our country is as strong as it was the day I accepted his offer to serve as secretary of state," he said.
The remarks came hours after US media reported that Tillerson had called Trump a "moron," and that Pence had to persuade Tillerson to stay on aboard.
"While I'm new to Washington, I have learned that there are some who try to sow dissension to advance their own agenda by tearing others apart in an effort to undermine President Trump's own agenda," Tillerson said of the report, which he called "erroneous."
The report largely overshadowed Trump's visit to Las Vegas, during which the president repeatedly tried to play down the speculation of a rift between his top diplomat and himself.
"The NBCNews story has just been totally refuted by Sec. Tillerson and VP Pence. It is Fake News. They should issue an apology to AMERICA!" Trump said in a tweet enroute to Las Vegas to visit the site of the horrific mass shooting on Sunday.
"I have total confidence in Rex," Trump later told reporters as he left a hospital in Las Vegas.
White House Press Secretary Sarah Sanders echoed her boss, saying "if the president doesn't have confidence in somebody, they will no longer be in their position."
Despite an uniform denial of the news report, the White House and the State Department has shown acute differences on crucial foreign policy issues, including the nuclear issue with the Democratic People's Republic of Korea.
While Tillerson said that he is committed to engagement on the nuclear issue, Trump said on Twitter that Tillerson is "wasting his time," and that the United States "will do what has to be done."