US VP Pence exit football game after players knelt during anthem
Xinhua | Updated: 2017-10-09 09:43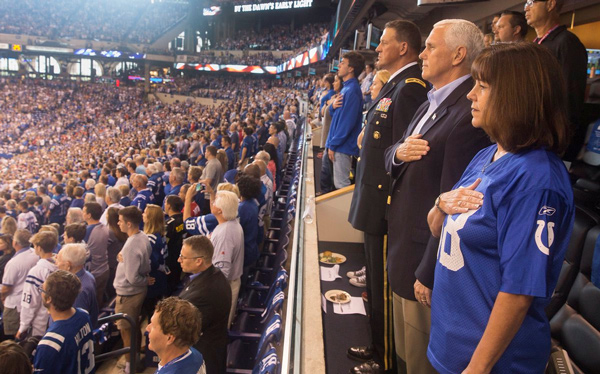 Vice-President Mike Pence and Second Lady Karen Pence stand during the national anthem prior to the start of an NFL football game between the Indiana Colts and the San Francisco 49ers at the Lucas Oil Stadium in Indianapolis, Indiana, US, Oct 8, 2017. [Photo/Agencies]
WASHINGTON - US Vice-President Mike Pence walked out of an Indianapolis football game Sunday after several players kneeled in protest during the national anthem.
"I left today's Colts game because @POTUS and I will not dignify any event that disrespects our soldiers, our flag, or our national anthem," Pence tweeted after his exit, using the acronym for US President Donald Trump.
Nearly two dozen players from the visiting San Francisco 49ers team had kneeled during the playing of the national anthem, a form of protest gaining traction among many athletes to protest against police brutality.
The protests has been criticized by Trump, who said protesting during national anthems was disrespecting the country and its military.
"I asked @VP Pence to leave stadium if any players kneeled, disrespecting our country. I am proud of him and @SecondLady Karen," Trump tweeted after Pence's exit.
The move reignited a debate whether the form of protest was appropriate for athletes. Proponents said the athletes had the right to express their opinions, while opponents said sports should not be politicized.
The protest first began with 49er quarterback Colin Kaepernick, who sat through a national anthem in the 2016 preseason, and later switched to kneeling, which was imitated by other players in the league.
Kaepernick's contract with the 49ers ended this March, it is unclear the reason behind the termination of his contract.
The National Football League has declined to comment on Pence's walkout.