Ice maiden or robot? UK PM relives her disaster conference
Xinhua | Updated: 2017-10-09 10:08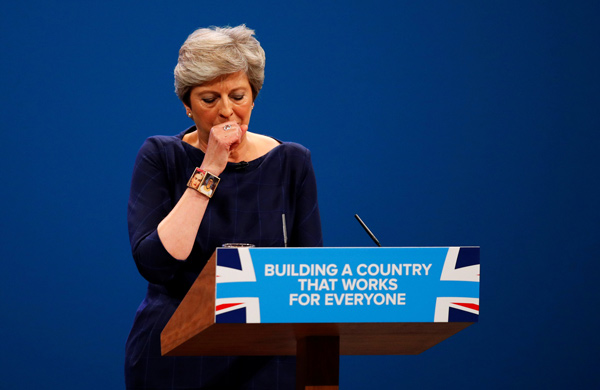 Britain's Prime Minister Theresa May coughs as she addresses the Conservative Party conference in Manchester, October 4, 2017. [Photo/Agencies]
LONDON - British Prime Minister Theresa May relived Sunday the ordeal of her disastrous party conference speech, insisting "I am resilient".
In her first major interview since Wednesday's conference fiasco when a prankster interrupted her speech, her coughing fits and the stage backdrop falling apart, May said at no time did she think of giving up.
In an exclusive interview in the Sunday Times newspaper, May was asked if she had cried or been depressed in the aftermath of her speech.
She replied: "One minute journalists are accusing me of being an ice maiden or a robot, then they claim I'm a weeping woman in dire need of a good night's sleep! The truth is my feelings can be hurt, like everyone else, but I am pretty resilient."
May said at no point did she feel like leaving the stage when things went wrong, adding, "I am a very determined person".
Describing what gave her the guts to plough on, May said the speech had not been the easiest in her life.
"But I had an important message to deliver and I was determined to do that. It didn't feel like I was alone up there, it felt like everyone in the room was with me and willing me on and that made a huge difference," she said.
Asked if the speech was the worse day of her life, May described it as just a speech, adding that she had had to deal with horrific events such as the "appalling Grenfell Tower fire and loss of life".
"In my life there have, of course, been difficult times but what motivates me is giving a voice to those who struggle to be heard," she said.
Asked if she feared for her own safety when the prankster approached her during the speech, May said: "I wasn't concerned for my safety, there was nothing about his body language that gave me cause for alarm. I have protection people who are fantastic. They look out for me and I trust them completely. I cannot imagine many people watching found the prank funny, though."
May also said it was hugely important that leaders do not become shut off from the public.
"We need to get out there to make our case, to listen to what really matters to people and to learn what we can do to make their lives better," she said.
She said from a group of men she met on a stag do in Tallinn last week to the people she talked to when knocking on doors, she rarely meet anything other than warmth, wit and wisdom.
Other media reports Sunday speculated that May was planning to reshuffle her top-team cabinet, with under-fire Foreign Secretary Boris Johnson a possible casualty of a shake-up.
In her Sunday Times interview, May gave no hint of her intentions, apart from describing her cabinet as "terrific".
She said; "I'm the PM and part of my job is to make sure I always have the best people in my cabinet, to make the most of the wealth of talent available in the party. I have a terrific cabinet. For me leadership is not gossip and game-playing."
Some political commentators were interpreting her words as a possible signal that Johnson would lose his job.