China takes center stage with debut at Kentucky conference
By May Zhou and Zhang Yuan in Lexington, Kentucky | China Daily | Updated: 2017-10-31 07:47
China studies are taking root in the Bluegrass State.
At the Patterson School of Diplomacy and International Commerce at the University of Kentucky in Lexington, China became the sole focal point of a fall conference held on Thursday and Friday.
Scholars, researchers and business executives from around the country gathered to discuss issues concerning China.
Kathleen Montgomery, interim director at the Patterson School, said that it was the first time the school had focused on China.
"Patterson School has four areas of concentration: Diplomacy, security and intelligence, international commerce, and development and international organizations," she said.
"We examine the issues in each of the four areas in a selected region. China is sufficiently large enough that we exclusively focus on China this year."
Montgomery said that China's rising economic influence, influence on world development and its role in negotiating with the Democratic People's Republic of Korea made the choice obvious.
For the security and intelligence panel, the focus is on the South China Sea. "That's an area our students have studied across a wide variety of disciplines," she said.
"The students study not only from a security perspective but also from the angle of international commerce. They have turned their interest to China's Belt and Road Initiative and securing sea lanes."
Africa role
The development panel focused on China's role in Africa.
"I think our students have a narrow view on China's role in the development of sub-Saharan Africa. Mostly they would see it from a perspective of resource extraction, but China's role is much broader than that," Montgomery said.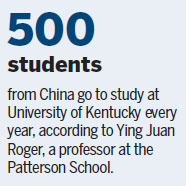 Montgomery said she worked as a Peace Corp volunteer in Benin in West Africa from 1989 to 1992.
"China was a partner even then in Benin, building the main road from north to south. They even had a couple of experimental rice farms," she said.
"I hope the students will go away with more fully developed view on China's influence in sub-Saharan Africa, something deeper than just headlines that might hit The New York Times."
Zackary Shinoll, a student at Patterson School, said he found the conference engaging. "I feel like I picked up a lot of insight. I fell prey to some of the myths that have been touted, for example, as pertaining to China's role in Africa," he said.
The University of Kentucky has a strong relationship with China, said Ying Juan Roger, a professor at the Patterson School.
"We have a very active Confucius Institute here. About 500 Chinese students come to US every year to study a variety of subjects. There are many doctors, post Ph.D. and researchers in our medical school," Roger said.
Contact the writer at mayzhou@chinadailyusa.com.
(China Daily 10/31/2017 page11)