Beijing vows to honor green goals
By Wang Yanfei | China Daily | Updated: 2017-11-01 07:02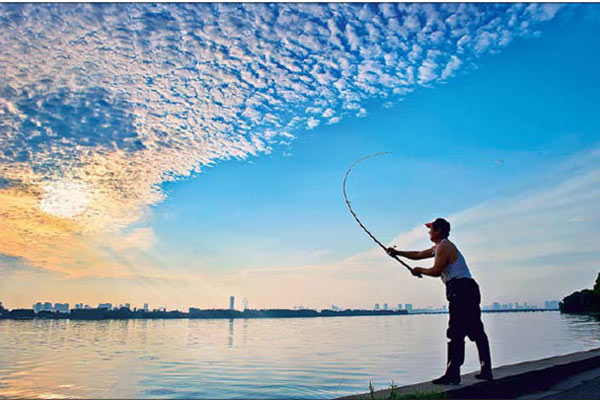 A fisherman casts off at Lihu Lake, Wuxi, in the early morning. [Photo by Rong Yiqing / For China Daily]
Nation hopes US will return to Paris agreement on climate change
China will look to cooperate further with the United States on climate change negotiations and press ahead with its own green goals despite the US decision to withdraw from the Paris agreement earlier this year, a top official said on Tuesday.
Speaking ahead of the key United Nations climate conference in Bonn, Germany, in November, Xie Zhenhua, the country's chief negotiator on the Paris climate accord, said China will always remain committed to fulfilling its climate pledges and is keen to push the Paris pact with other parties, including the United States.
"China hopes to strengthen cooperation with the US on developing clean energy, carbon capture technologies and other issues. Our cooperation with the US at the state level has progressed quite well and never stopped," he said.
The two nations had played key roles in clinching the landmark pact in 2015, but the US administration announced its decision to withdraw from the agreement earlier this year.
"We hope the US will come back to the big family of the Paris agreement and tackle climate challenges with other parties," he said.
Though the remaining signatories of the Paris pact will continue their negotiations in Bonn on how to take the pact forward, the meeting would be overshadowed by the stance taken by the US, one of the world's largest carbon emitters.
The United States will still send a team to the Bonn talks, despite its earlier decision to withdraw from the accord.
Zou Ji, president of the China office of Energy Foundation, said he does not expect a major shift in the US stance before the climate conference or during US President Trump's visit to Beijing, which is set to begin on Nov 8 and overlaps the conference.
But deals are expected to be sealed in clean energy during upcoming meetings, like in LNG trade, which can benefit the climate accord, said Zou.
Amid uncertainties brought by the United States, China's strong commitment to combat climate change challenges is injecting confidence to the coming climate talks, according to Laurence Tubiana, CEO of the European Climate Foundation.
She said China is taking a leading role in the global fight to combat climate change, reflected by the nation's efforts taken in recent years to rebalance its economic structure and lessen reliance on smokestack industries.
China's carbon intensity, a measure of how much carbon the nation emits per GDP, has declined by 4 percent in the first three quarters of this year, according to data from the National Development and Reform Commission, the country's top economic planner.
China is well on track to achieve its carbon emission targets set for the 13th Five-Year Plan (2016-20), according to Li Gao, an official from the climate change department of the commission.