Chinese student shot and killed in Utah
By Linda Deng in Seattle and Mo Jingxi in Beijing | China Daily | Updated: 2017-11-02 07:07
The University of Utah has released the name of Chinese student Guo Chenwei, 23, who was shot and killed in an attempted carjacking near the campus on Monday night.
Classes were canceled on Tuesday but the campus remains open and a secure-in-place order has been lifted.
After hours of searching by the police and FBI, the suspected gunman, Austin Jeffrey Boutain, 24, was taken into custody at Salt Lake City's main library on Tuesday afternoon.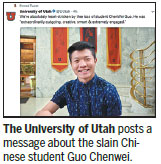 Chinese Foreign Ministry spokeswoman Hua Chunying said on Wednesday that the Chinese embassy in the United States has requested information from the authorities, urging the police to solve the case as soon as possible.
The embassy also expressed sympathy and said it had provided assistance to Guo's family, she said.
"The Foreign Ministry and the embassy in the US will keep a close eye on the development of the case, and offered necessary support for the family's visit to the US," she added.
The official Twitter account of the University of Utah posted a recent picture of Guo. It said in a statement that everyone at the university was heartbroken by the loss of Guo. "He was extraordinarily outgoing, creative, smart and extremely engaged."
University of Utah President David Pershing said in a statement sent to students: "We have canceled classes today in respect for Chenwei and the impact this violent event has had on our campus community. Chenwei was a pre-computer science major with a promising future and worked as a peer adviser in our International Student and Scholar Services Office."
Guo was born in Beijing. He arrived in the US in 2012 and would have turned 24 on Sunday.
Police believe Boutain shot Guo while attempting to steal his car. Additional details about the incident have yet to be released.
Pershing said the university is working to bring Guo's family to Utah from China.
Contact the writers at lindadeng@chinadailyusa.com
(China Daily 11/02/2017 page3)