A touch of Swedish flair on Tmall
By Cao Chen in Shanghai | chinadaily.com.cn | Updated: 2017-11-06 12:10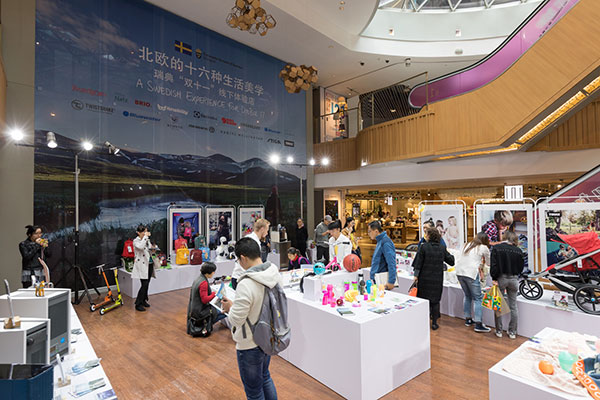 The exhibition by the Consulate General of Sweden in Shanghai showcases premium Swedish products at the K11 art mall in Shanghai. Photo provided to chinadaily.com
The Consulate General of Sweden in Shanghai held a pop-up exhibition from Nov 4 to 5 in the city to showcase premium Swedish products ahead of the Nov 11 Single's Day shopping festival created by Chinese e-commerce giant Alibaba.
Located at the main atrium of the K11 art mall in Shanghai, the exhibition featured a broad range of products, including toys, home appliances, watches, headphones and organic diapers. Customers were able to purchase the products on Tmall, one of Alibaba's e-commerce platforms, by scanning the QR codes on the price tags. Most of the products came with discounts.
"We are really excited about this experience as it gives our consumers in China the chance to experience some Swedish brands that are mainly sold online," said Sebastian Magnusson, vice-consul and head of commercial affairs, culture and education at the Consulate General of Sweden.
"Also, the customers here today are young and trendy people and they correspond with the target demographic customers of the life-style brands here today," he added.
Magnusson said this pop-up exhibition could also help path the way for more Swedish goods to enter the Chinese market in the future.
Following the meeting between Swedish Prime Minister Stefan Lofven and the founder and executive chairman of Alibaba, Jack Ma, in Hangzhou earlier this year, more Swedish brands have been introduced to Tmall.
Kaimen, a dedicated platform for Swedish products on Tmall, was also launched in June. There were just over 10 brands available during the launch and Alibaba said there are now plans to grow the number to 40 by the end of this year.
"The total e-commerce turnover of Swedish brands in China, including those on Tmall, JD.com, Amazon.com and other online stores, has grown more than 40 percent from eight years ago. We are very confident about achieving further growth in the Chinese market," said Johan Wikander, partner of Johan & Johan, a Swedish-owned company that helped to launch Kaimen.
Sherry Xie, the online sales manager of Kaimen, noted that consumers in China today no longer view price as the top priority when buying products, but instead look out for quality, design, safety and sustainability.
"Swedish brands are best known for having such traits and we will continue to offer our customers the best," said Xie.
caochen@chinadaily.com