China, Finland agree to further advance bilateral ties
Xinhua | Updated: 2017-11-07 09:01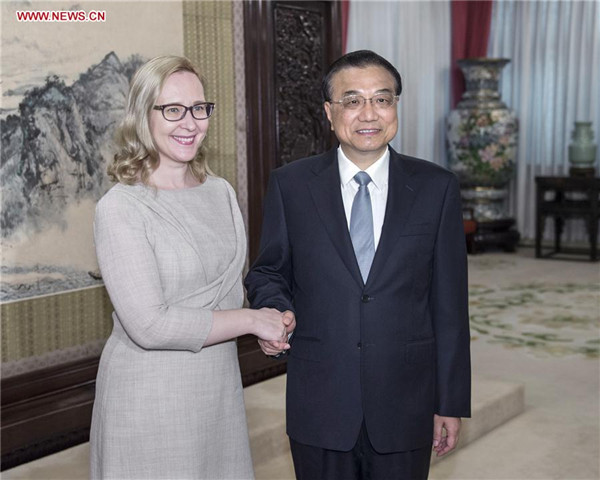 Chinese Premier Li Keqiang (R) meets with Speaker of the Finnish Parliament Maria Lohela in Beijing, capital of China, Nov 6, 2017. [Photo/Xinhua]
BEIJING - China and Finland on Monday agreed to further lift bilateral ties through pragmatic cooperation and enhancing exchanges between legislative bodies.
The pledge came as Finnish Parliament Speaker Maria Lohela met with Chinese Premier Li Keqiang, and held talks with Chinese top legislator Zhang Dejiang in Beijing.
Li told Lohela China had always adhered to a policy of mutual respect and equality, which was an important principle in safeguarding world peace and multiculturalism.
He said China was willing to enhance cooperation in the areas that Finland had advantages, such as innovation, clean energy, environmental protection and vocational education.
Lohela said Finland was ready to work with China to take a long-term perspective to develop bilateral ties.
During her talks with Zhang, chairman of the Standing Committee of the National People's Congress (NPC), later on Monday, Lohela was briefed by Zhang on the recent 19th National Congress of the Communist Party of China.
Calling Finland a major Nordic country and EU member, Zhang said he hoped Finland could exert a positive influence on the development of China-EU relations.
He suggested the NPC and the Finnish Parliament intensify exchanges at various levels to enhance mutual understanding and political trust.
"The two legislatures need to create a better policy and legal environment for the economic cooperation on key areas of innovation, green development and coordinated development," Zhang said.
He also called for closer cultural exchanges and local cooperation.
Lohela said Chinese President Xi Jinping's state visit to Finland last April consolidated and lifted bilateral ties.
"The Finnish Parliament is willing to work with the NPC to create a sound environment for bilateral cooperation in areas of economy and trade, culture, tourism, small and medium enterprises investment from a new starting point," she said.
Lohela is here for a six-day visit, which started Sunday, at the invitation of Zhang.