Trump visit predicted to be 'historic'
By AN BAIJIE in Beijing and ZHAO HUANXIN in Washington | China Daily | Updated: 2017-11-08 06:28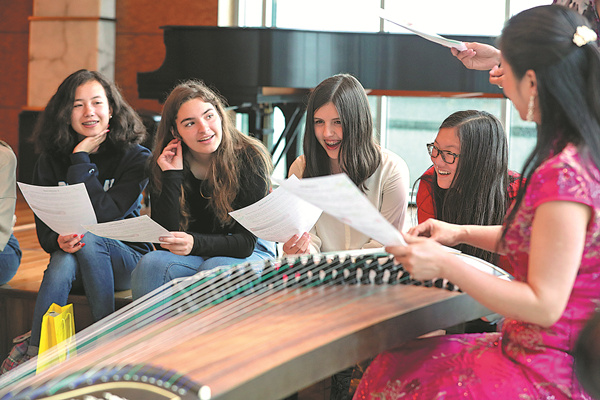 A musician teaches US students about the guzheng, or Chinese zither, during an event at the Chinese Consulate General in New York in May. Culture is just one of the areas in which China and the United States have close relations. WANG YING / XINHUA
The first state visit of US President Donald Trump to China, which starts on Wednesday, is expected to be a "historic" success with joint efforts made by the two nations, senior diplomats of both sides said.
The three-day visit will provide opportunities for President Xi Jinping and Trump to exchange in-depth views on issues that concern both sides, Foreign Ministry spokeswoman Hua Chun¬ying said at a regular news conference on Tuesday.
The visit is of great significance in pushing forward the steady development of Sino-US relations in the new era and promoting the prosperity of not only the Asia-Pacific region but also the world, she said.
Terry Branstad, US ambassador to China, said on Monday that the meeting between the two presidents will be helpful in resolving "thorny issues".
"There is a lot of excitement and feelings that this could be very historic and significant for the Trump-Xi meeting here," he said in a group interview, Xinhua News Agency reported.
"I think the chemistry between the two leaders is good, and that bodes well. If the two leaders can get along well and work out some of the differences, hopefully that can help the rest of us to work things out well," he said.
Hailing the frequent interaction between Xi and Trump, Branstad said that meetings between the two leaders have been helpful in addressing sticking points.
Since Trump took office in January, the two leaders have maintained close contact. They already have had two face-to-face meetings and eight phone conversations.
Chinese Ambassador to the US Cui Tiankai said last week that China will welcome Trump with arrangements constituting a "state visit-plus". Hua, the spokeswoman, declined to provide more details. Previous news reports said that Xi will invite Trump to visit the Palace Museum, also known as the Forbidden City.
Earlier media reports said that a 29-company business delegation, led by US Commerce Secretary Wilbur Ross, will travel with Trump.
Branstad also said a number of memorandums of understanding are expected to be signed during Trump's visit, covering manufacturing, energy and other sectors.
Trump's visit marks the first by a head of state to China after the conclusion of the 19th National Congress of the Communist Party of China last month.
Analysts said the visit will provide good opportunities for the top leaders of both nations, especially some senior leaders newly elected after the Party's congress, to have in-depth talks over major issues concerning both sides.
Senior Chinese leaders, including Ding Xuexiang, director of the Chinese President's Office; Liu He, director of the General Office of the Central Leading Group for Financial and Economic Affairs; and State Councilor Yang Jiechi are likely to attend the meeting. All three are members of the CPC Central Committee Political Bureau.
J. Stapleton Roy, former US ambassador to China, said he hoped Trump's first visit to China would be "historic".
Roy said that if the United States is prepared to give something and China is prepared to give something there would be a good outcome.
"It takes two to tango," Roy added.
B.R. Deepak, a professor of Chinese studies at Jawaharlal Nehru University in New Delhi, said trade and Korean Peninsula nuclear issues are believed likely to "dominate the agenda" during Trump's visit.
"I remain optimistic as regards both issues," he said, adding that the US and China will conclude some win-win trade deals conducive to enhancing the strategic trust between them.
"In fact, the consensus reached between President Trump and President Xi has been strengthened over time through frequent communication between them over the phone, and it is believed that both have developed a good chemistry and rapport," he said.