Xi, Peng welcome Trump at Beijing's Palace Museum
By Zhang Yunbi and Mo Jingxi | chinadaily.com.cn | Updated: 2017-11-08 19:41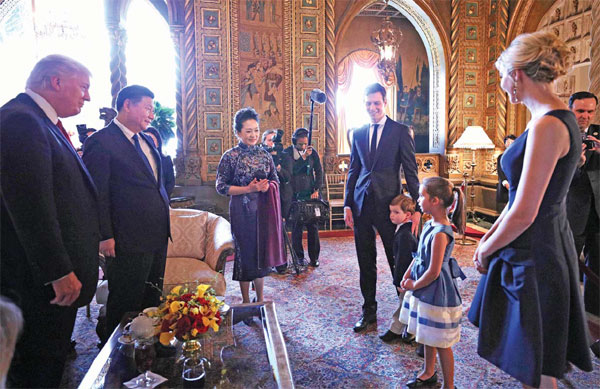 President Xi Jinping and his wife, Peng Liyuan, listen as two grandchildren of US President Donald Trump perform in Chinese at the Mar-a-Lago resort in Palm Beach, Florida, on April 6, 2017. Arabella Rose, standing beside her mother, Ivanka Trump, seems more at ease than her brother Joseph Frederick, who stands with his father, Jared Kushner. Lan Hongguang / Xinhua
President Xi Jinping and first lady Peng Liyuan welcomed US President Donald Trump and his wife, Melania, at the Palace Museum, one of Beijing's most historic sites, on Wednesday afternoon.
The couple will accompany the Trumps on a tour of several major halls in the museum.
President Xi welcomed his US counterpart and thanked the entire Trump family for the warm reception he received at the Mar-a-Lago resort in April.
Trump showed Xi and Peng a video of his granddaughter, Arabella, reciting Sanzijing (Three Character Classic) and ancient Chinese poetry. The Chinese president complemented her language skills, saying her performance was "A plus".
Xi said Arabella - the daughter of Ivanka Trump and Jared Kushner - is already a starlet in China, and that he hopes she will have the chance to visit the country.
Arabella sang in Mandarin and recited a Chinese poem for Xi and Peng when the couple visited the US in April.
The Palace Museum, also known as the Forbidden City, was a royal palace from 1420 to 1911. It has frequently been included in the itineraries of foreign leaders visiting Beijing.
Trump traveled to the museum directly after arriving at Beijing Capital International Airport to start a three-day state visit to China.