Xi offers hand of friendship to Trump
By Zhang Yunbi and An Baijie in Beijing | China Daily | Updated: 2017-11-09 05:01
US president and his wife enjoy warm hospitality as they arrive in Chinese capital for 'state visit-plus'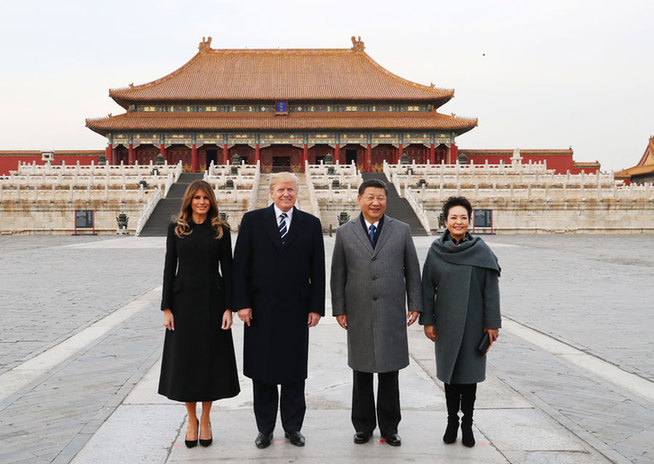 President Xi Jinping and his wife, Peng Liyuan, and US President Donald Trump and his wife, Melania Trump, pose for a photo in front of the Hall of Supreme Harmony during their visit to the Palace Museum, or the Forbidden City, in Beijing on Wednesday. LAN HONGGUANG / XINHUA
With an elaborate welcoming ceremony at Beijing Capital International Airport and a tour arranged at the Forbidden City, President Xi Jinping gave his US counterpart Donald Trump a warm welcome at the beginning of his three-day state visit.
From the time Air Force One landed at Beijing airport on Wednesday afternoon, the "state visit-plus" treatment for hosting Trump was rolled out, with a guard of honor, a military band and hundreds of elementary school students greeting the US president.
Trump arrived at the Palace Museum shortly after he disembarked from Air Force One, and he proudly showed Xi and his wife, Peng Liyuan, a video of his granddaughter Arabella Kushner singing in Mandarin and reciting classical Chinese poetry.
During their tour of the Palace Museum spanning from the afternoon into evening, Xi and Trump exchanged views on issues of common concern, such as governance and China-US ties, as they toured the imperial halls, watched repair work on cultural relics and enjoyed Peking Opera.
During a tea break at the Hall of Embodied Treasures before touring the museum, Xi welcomed Trump's state visit to China as the latter celebrated the first anniversary of his election as US president.
Xi noted that the ongoing state visit is of great significance — it is a focus of attention from both countries, as well as globally, and it will yield positive outcomes.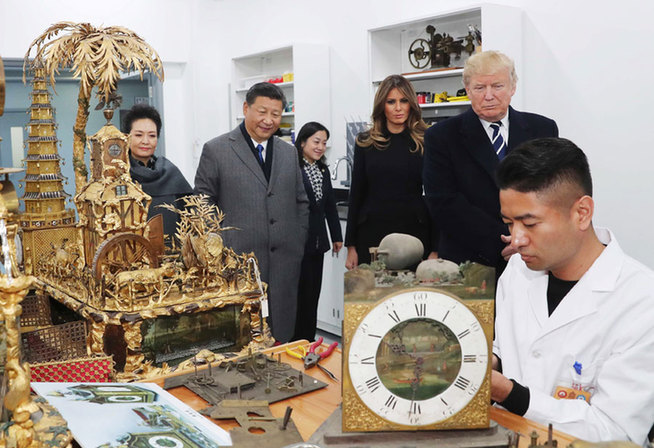 President Xi Jinping and his wife, Peng Liyuan, and US President Donald Trump and his wife, Melania Trump, watch a craftsman repair historical relics at the conservation workshop of the Palace Museum in Beijing on Wednesday. LIU WEIBING / XINHUA
Trump applauded the achievements China has made regarding economic development and said he expects a successful state visit.
When touring the three key imperial halls of the museum, where the emperors met officials and hosted ceremonies, Xi told Trump the museum is an indispensable way to get to know Chinese history and culture.
The Forbidden City — China's royal palace from 1420 to 1911 — as the museum is known, has been frequently included in foreign leaders' itineraries on their visits to Beijing in recent decades.
But it is the first time that the museum has simultaneously hosted the Chinese president and his wife accompanying a visiting presidential couple from another country, according to Shan Jixiang, director of the museum.
At the Museum's Cultural Relics Hospital, the two couples watched workers showcase their skills and crafts in repairing damaged relics.
Upon arriving at the museum's Pavilion of Cheerful Melodies, the two couples participated in drawing on Chinese porcelain and watched a Peking Opera performance.
Ruan Zongze, vice-president of the China Institute of International Studies, said the "state visit-plus" treatment for hosting Trump, going further than previous receptions of guests, represents the shared determination and actions of both China and the US to improve China-US ties.
Contact the writers at zhangyunbi@chinadaily.com.cn