United to further tap fast-growing Chinese market
CHINA DAILY | Updated: 2017-11-09 07:04
United Airlines is cashing in on China's rapid development and the fast-growing number of outbound tourists, according to a senior executive.
United is now the dominant carrier between China and the United States, providing more services than any other airline, with direct flights to Beijing, Shanghai, Chengdu, Sichuan province, and Xi'an, Shaanxi province.
"United continues to pioneer new transpacific routes from China, and is ready to add capacity where we see sufficient demand," Marcel Fuchs, vice-president of Atlantic and Pacific sales at the airline, said in an interview on Tuesday.
He added that the growing number of Chinese tourists is playing a major role.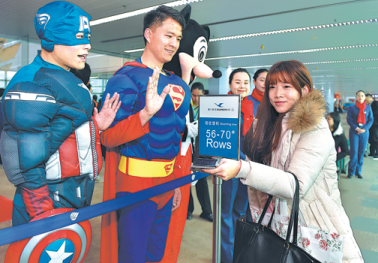 Workers in superhero costumes wave goodbye to passengers boarding Flight MF849, a direct service between Fuzhou, Fujian province, and New York. SONG WEIWEI / XINHUA
"China is a very important market for United, and it's growing rapidly," he said.
The country now accounts for approximately 10 percent of United's international business travelers.
According to the US Department of Commerce, 2.97 million Chinese tourists traveled to the US last year, a rise of 15 percent from the previous year, and they spent a combined $33 billion, a rise of 9 percent from 2015.
The US has enjoyed 13 consecutive years of rising visitor numbers from China, 12 of them attracting double-digit growth.
"We will continue to encourage tourism, and we see tremendous growth opportunities between China and the US," Fuchs said.
The flights to Chengdu and Xi'an, plus an additional service to Shanghai, were all added in the past few years.
All services from Chengdu and Xi'an connect with San Francisco, which is a major business and leisure destination in its own right, Fuchs said.
From San Francisco, United operates about 260 flights daily to more than 90 destinations in North, Central and South America and the Caribbean.
Fuchs cited the direct transpacific services from Chengdu and Xi'an as demonstrations of both the airline's commitment to the market and its biggest strength-its unmatched network between China and the US and beyond.
"China's social and economic reforms have transformed and reshaped the industrial, commercial, and regulatory landscapes of its developing non-Tier-1 cities," he said.
"As living standards and the business environment improve, these cities have enormous market potential and people's purchasing power is rising. United sees huge business potential in these non-tier-1 markets."
In addition to services to the US, United operates a twice-weekly service from Shanghai to Guam, the only scheduled direct flights between the Chinese mainland and the unincorporated US territory, along with four flights a week from Hong Kong.
"We are constantly evaluating additional destinations throughout China and beyond. We will continue to solidify our footprint as the No 1 US carrier to China in the future," Fuchs said.
He added that United is eager to engage with the Chinese market, a move signalled by the airline's growing presence on WeChat, one of China's most-popular social-media apps.
"(It) allows us to engage with and interact with our Chinese customers," he said.