China, Russia extol close ties
By AN BAIJIE in Da Nang, Vietnam | China Daily | Updated: 2017-11-11 06:40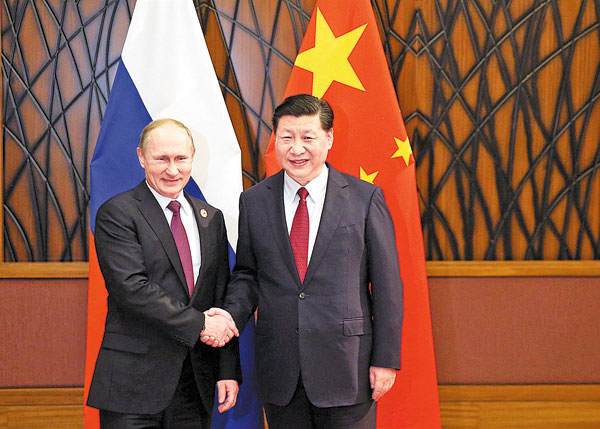 President Xi Jinping and Russian President Vladimir Putin meet on the sidelines of the APEC Economic Leaders' Week in Da Nang, Vietnam, on Friday. SPUTNIK / REUTERS
The cooperation between China and Russia on global affairs has demonstrated major country responsibility and set an example for the new type of international relations based on mutual respect and win-win cooperation, President Xi Jinping said on Friday.
Calling Russia a trustworthy partner, Xi said while meeting with Russian President Vladimir Putin in Da Nang, Vietnam, that China-Russia political mutual trust has been strengthened this year with progress in bilateral ties. The two met on the sidelines of the APEC Leaders' Week.
Xi pointed out that the synergy of the China-proposed Belt and Road Initiative and the Russia-led Eurasian Economic Union has yielded early fruit this year, with outstanding improvement in the bilateral trade structure.
Xi expressed gratitude for Putin's recent congratulation on the success of the Communist Party of China's 19th National Congress, which concluded on Oct 24.
In a phone call last month, Putin congratulated Xi on the national congress and Xi's re-election as general secretary of the CPC Central Committee. The congress elected a new Central Committee of the Party.
Putin extended his congratulations again on Friday on the success of the 19th CPC National Congress and Xi's re-election as general secretary.
Calling China an important economic and trade partner for Russia, Putin said Xi's state visit to Russia in July has pushed the development of bilateral economic ties.
Over the past five years, Xi has been to Russia six times, either for state visits or to participate in international activities. Xi and Putin have talked frequently on the sidelines of multilateral meetings, which has laid a solid foundation for the countries' increasingly good relations.
Both China and Russia are permanent members of the United Nations Security Council and members of the G20, BRICS and the Shanghai Cooperation Organization, and their joint efforts are seen as playing a key role in maintaining the world's political stability.
Sun Xingjie, deputy dean of the School of International and Public Affairs at Jilin University, said the already close China-Russia relationship is expected to be strengthened under the major-country diplomacy with Chinese characteristics — China's diplomatic approach that was part of Xi's report to the national congress.
The China-Russia "comprehensive strategic partnership of coordination", which Beijing values highly, will see more regular meetings between Chinese and Russian leaders and is expected to play a much bigger role in the global arena, Sun said.
Sharing their respective pursuit of national rejuvenation, China and Russia now have more incentives to deepen their partnership and help optimize global governance, he added.