Prince Charles leads Remembrance day ceremony for British war dead
Updated: 2017-11-13 10:12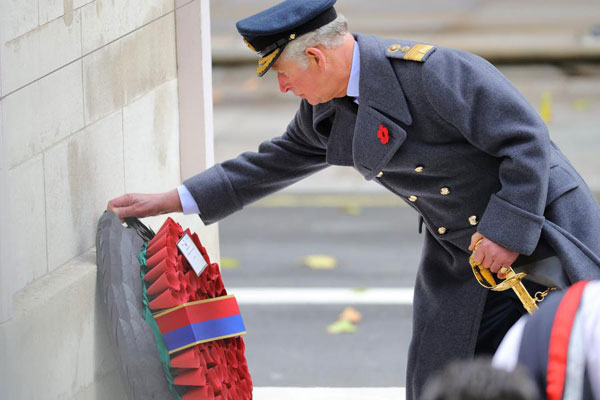 Britain's Prince Charles lays a wreath at the foot of the Cenotaph on behalf of his mother Queen Elizabeth II during the Remembrance Sunday Cenotaph service in London, Britain, Nov 12, 2017. [Photo/Agencies]
LONDON - Prince Charles led the annual ceremony to honour Britain's war dead on Sunday, laying a wreath on behalf of 91-year-old Queen Elizabeth to mark Remembrance Sunday as she watched the service from a balcony.
Breaking with her usual custom of placing the wreath at the Cenotaph on Whitehall in central London, the queen asked her eldest son to take on the role, in part because of the demands of the ceremony for someone in their 90s.
A two-minute silence was held at 1100 GMT and wreaths were laid at the foot of Britain's main war memorial by senior royals and political leaders including Prime Minister Theresa May and the leader of the main opposition Labour Party, Jeremy Corbyn.
The queen and her 96-year-old husband, Prince Philip, watched from the balcony of the nearby Foreign Office.
Royal historian Hugo Vickers said the queen had slightly stumbled during last year's service.
"One of the most important things with the queen as she gets older is not to put her in any situation where she might be uncomfortable or things might be difficult," he told Reuters.
"It requires a certain amount of standing around and then it involves the queen carrying something quite heavy and walking backwards."
Reuters