Quake kills 350 along border of Iran, Iraq
China Daily | Updated: 2017-11-14 08:08
TEHERAN - A powerful magnitude 7.3 earthquake that struck the Iraq-Iran border region killed more than 350 people in both countries, sent people fleeing their homes into the night and was felt as far west as the Mediterranean coast, authorities said on Monday.
Iran's western Kermanshah province bore the brunt of the temblor, with authorities saying the quake killed 348 people in the country and injured 6,603. The area is a rural, mountainous region where residents rely mainly on farming to make a living.
The quake also triggered landslides that hindered rescue efforts, officials told state television. At least 14 provinces in Iran had been affected, Iranian media reported.
In Iraq, the earthquake killed at least seven people and injured 535 there, all in the country's northern region, the Interior Ministry said.
The quake was centered 32 kilometers outside the eastern Iraqi city of Halabja, according to the most recent measurements from the US Geological Survey. It struck at a depth of 23.2 km, shallow enough to have broader damage.
Magnitude 7 earthquakes on their own are capable of widespread, heavy damage.
Iranian news agencies showed images and videos of people fleeing homes into the night. More than 100 aftershocks followed.
The quake's worst damage appeared to be in the town of Sarpol-e-Zahab in Kermanshah province, which sits in the Zagros Mountains that divide Iran and Iraq.
Kokab Fard, 49, a local housewife, said she could only flee empty-handed when her apartment complex collapsed.
"Immediately after I managed to get out, the building collapsed," Fard said. "I have no access to my belongings."
Iran's Supreme Leader Ayatollah Ali Khamenei offered his condolences on Monday morning and urged rescuers and all government agencies to do all they could to help those affected, state media reported.
In Iraq, Prime Minister Haider al-Abadi issued a directive for civil defense teams and "related institutions" to respond to the natural disaster.
The quake could be felt across Iraq, shaking buildings and homes from Irbil to Baghdad, where people fled into the streets of the capital.
AP - Reuters - Xinhua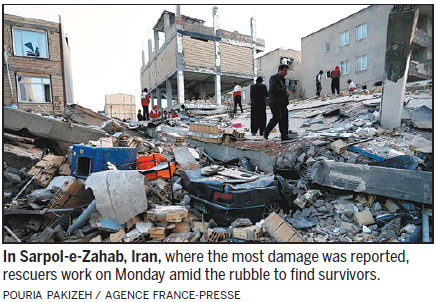 (China Daily 11/14/2017 page1)