Scotland on mission to attract young Chinese tourists
By Wang Mingjie in London | chinadaily.com.cn | Updated: 2017-11-21 00:27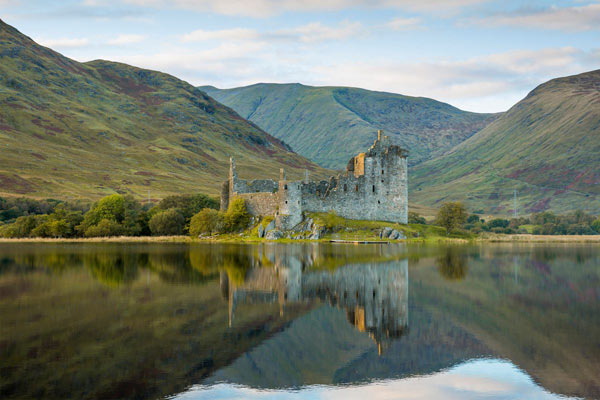 Loch Awe is a scenic loch in Scotland, gently fringed with thick conifer forests and beautiful oak woods. [Photo provided to chinadaily.com.cn]
A delegation put together by Scotland's national tourism agency is coming to the end of a 9-day trade mission to China that it hopes will help attract Chinese millennials to the country, a group it hopes will become a "driving force of growth" for Scottish tourism.
The number of Chinese visitors to the United Kingdom is expected to rise from the current 260,000 a year to 384,000 in the next five years, according to VisitBritain, the UK's national tourism authority.
Around one-fifth of those Chinese visitors to the UK spend time in Scotland.
Scotland's national tourism agency, VisitScotland, says the expected growth in the number of visitors from China is likely to be driven by the young adult traveler.
Research shows the average age of Chinese visitors to the UK is younger than the average age of visitors from other countries, with half of Chinese visitors last year aged between 25 and 44. Phocuswright, a global market research company, estimates that 60 percent of international Chinese travelers are aged between 18 and 34.
Malcolm Roughead, chief executive of VisitScotland, said: "The future of Scottish tourism lies beyond our shores. … China is a hugely important emerging international market and this mission will provide our partners with an excellent platform to speak directly to the top travel professionals in some of the country's most valuable outbound regions."
Roughead noted that the trade mission coincides with launch of Scotland's Year of Young People.
Eleven Scottish businesses have taken part and have interacted with major Chinese tour operators. The tour ends on Nov 21.
VisitScotland says China's growing wealth, an increasing interest among Chinese people in traveling to Europe, and Scotland's higher profile, have contributed to a steady growth in tourism during the past decade.
Connectivity has also been enhanced in recent years, thanks to airlines including Qatar, Etihad, and Emirates offering one-stop connections between China and Scotland via the Middle East. Turkish Airlines and Finnair are also now competing with British Airways, Air France, and Lufthansa for a share of the market serving Scotland.
Last year, as part of its China Ready initiative, the Scottish capital launched Scotland's first-ever destination campaign on influential Chinese social media sites Weibo and WeChat. The campaign was funded by the VisitScotland Growth Fund.
Edinburgh is now the second-mostly-visited destination for Chinese visitors to the UK, after London. This year, the Scottish capital has seen interest raised further after China Central Television, China's major television broadcaster, entered talks with Scotland to broadcast the world-famous Hogmanay New Year festival in China.
And two years ago, a Chinese strand was added to the Blogmanay social media campaign, which reached almost 10 million people via Twitter in 2016. More than 17,400 tweets were generated, along with 3,000 images on Instagram.