Gas pipeline to be ready in 3 years
By Zheng Xin | China Daily | Updated: 2017-12-14 07:52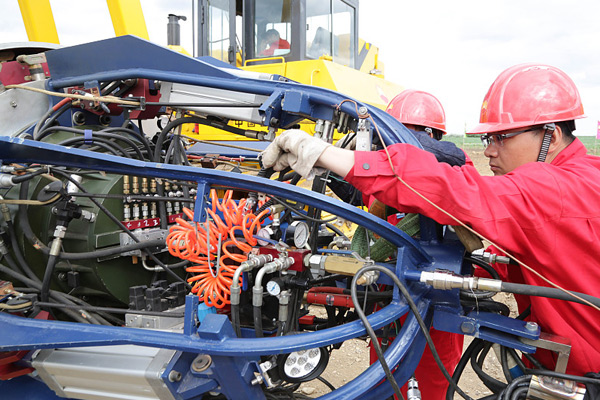 Demand for clean fuel set to increase and may outstrip domestic output
China is expected to complete the China-Russia East-Route Natural Gas Pipeline by the end of 2020, which will send up to 38 billion cubic meters of gas annually from Russia to China, according to China National Petroleum Corp.
The first phase of the pipeline linking Heihe in Heilongjiang province and Changling in Jilin province will be completed by October 2019, with the rest of the domestic pipelines linking Changling to Shanghai completed by the end of 2020, CNPC, the country's largest oil and gas producer by annual output, said on Wednesday.
Li Li, energy research director at ICIS China, a consulting company providing energy market analysis, said the step will further guarantee China's energy diversification.
"Completion of the natural gas pipeline will massively help ease China's shortage of natural gas while further diversifying China's energy supply," said Li.
China's natural gas demand will continue to increase toward 2040, outstripping domestic output by around 43 percent, according to a recent report released by the International Energy Agency.
China's annual gas production will more than double to 340 billion cu m by 2040, while consumption is expected to grow even faster, reaching 600 billion cu m, it said.
The natural gas pipeline is the China leg of the Russia-China natural gas pipeline, dubbed "Power of Siberia" that will provide China with natural gas under a 30-year term, with a planned annual capacity of 38 billion cu m.
The 3,371-kilometer China-Russia natural gas pipeline starts in Heihe and ends in Shanghai, passing through Heilongjiang, Jilin, the Inner Mongolia autonomous region, Liaoning, Hebei, Tianjin, Shandong, Jiangsu and Shanghai.
Work on the Russian section of the east-route pipeline began in eastern Siberia in 2014 and in China in 2015.
Han Xiaoping, chief information officer of China Energy Net Consulting, said the two countries, the world's second-largest energy consumer and the world's top energy producer, have always complemented each other as producers and exporters.
The pipeline, one of the latest examples of energy cooperation between China and Russia, benefits both countries, he said.
The "Power of Siberia" pipeline is one of the biggest Russia-China projects. The two countries signed a $400 billion 30-year agreement in 2014 to deliver 38 billion cu m of Russian gas to China annually.