Director of Israeli play 'Ghetto' on life during WWII
By Chen Nan | China Daily | Updated: 2018-01-08 07:25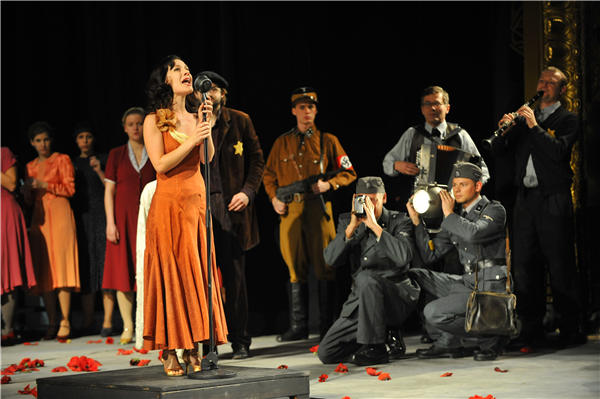 The Chinese version of a play based on incidents in ghettos during World War II is to be staged on the mainland toward the end of the year. Chen Nan speaks to the Israeli playwright about what moved him to tackle the subject.
When Israeli playwright and director Joshua Sobol first read diaries describing life in the ghetto of Vilna, in Lithuania, during the World War II, he realized that there had been a theater in the ghetto.
Then, in 1982, he started to do research on the subject. He found that many of the people involved were still alive. He felt the urge to adapt the story into a play.
The theater, which was established by Jews who were pushed into the small ghetto by German soldiers, used to stage various shows, including operas, dance and plays.
Sobol could not fulfill his idea of turning the stories into a play until he shared these stories with his students at the Beit Zvi School for the Performing Arts in Israel.
Speaking about how he was moved to write the play, he says: "When I read the diaries of people living in the ghetto, what surprised me most is that they wrote songs which are full of life and hope during the most difficult times.
"Almost every day, people were taken away and killed in the forest some 12 kilometers from the ghetto," says Sobol.
"When I told them (my students) about the theater in the ghetto, they couldn't believe it. We talked about it for two hours, which made me realize that the play was right there."
In 1984, the play, titled Ghetto, premiered at the Haifa Theatre in Israel, and the play has been staged in more than 25 countries, including the United States, Germany and the United Kingdom, and has been translated into 20 languages.
The play is scheduled to be staged in China in November, where it will be performed in Chinese for the first time.
Sobol will direct the play in Beijing working with Chinese actors.
His wife, Edna, the set and costume designer, who worked for six productions of the play, will do the set and costumes for the Chinese version.
Sobol recalls that he met a few survivors from the ghetto of Vilna and among them was a woman, who was only 17 when she first moved there.
"I asked what the theater meant to her and to her friends. And she told me that after very hard days of work-forced labor by the German soldiers-they put on their best clothes to go to the theater to meet friends. The theater reminded them that they were still human beings," he says.