New York's Met sets mandatory fee, a first in 50 years
Updated: 2018-01-08 07:30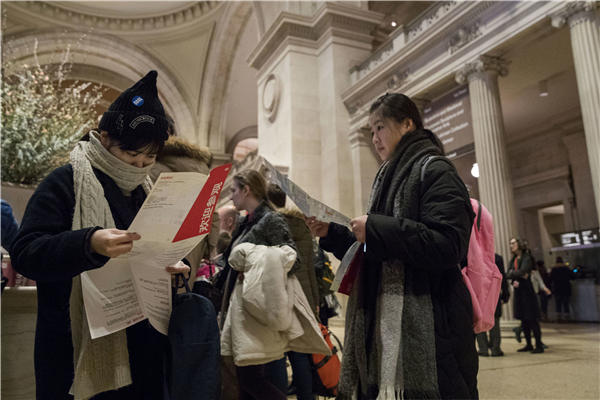 The Metropolitan Museum of Art is partially abandoning its "pay-what-you-wish" admissions policy that has made it an egalitarian destination for generations of art lovers.
Starting March 1, the museum will charge a mandatory $25 entrance fee to most adult visitors who don't live in New York State, the Met's president and CEO Daniel Weiss announced on Thursday. The admission fee will still be pay-what-you-wish for New Yorkers.
Weiss says the extra money-an estimated $6 million to $11 million per year-will help bring long-term fiscal stability to the institution. The Met, which has a $305 million operating budget, registered a shortfall of about $10 million for its most recently completed fiscal year.
People from all over the world have been able to come to the museum and pay next to nothing since the museum was founded in 1870, but the number of people willing to pay the suggested donation of $25 has dropped off substantially in recent years.
"The goal of the policy is to find a better balance for the institution," Weiss says. "The current policy has failed."
Entrance will remain free to all children under 12 and the pay-what-you-wish suggested fee will still apply to students up to graduate school in New York, New Jersey and Connecticut. Students living outside the tristate area will be charged $12, while seniors will pay $17.
The fee change will affect about 30 percent of the museum's visitors. Weiss says the $25 fee will allow visitors to enter the Met over three consecutive days, instead of just one.
Two cousins from Bologna, Italy, who recently visited the Met chose to pay $15 each, saying they felt this amount was sufficient.
"But $25 is a lot. It's absolutely too much," says Francesca Betocchi, an attorney.
"We think art education should be a free, open door for everybody, not only for those who have more money," says her cousin, Paola Borri, a 51-year-old accountant.
Michael Dysart, a retired psychotherapist visiting the museum, says he understood its financial pressures.
"It's a complicated issue, because everyone needs more money now-all the institutions. They need to be financially secure, but at what cost? What's the trade-off?" he says.
As part of the late 19th-century legislation that allowed the museum to open in Central Park, admission was initially required to be free most days of the week. In 1970, city officials agreed to let the museum charge fees, as long as the amount paid was decided by the visitor. Lawsuits in recent years have challenged signage at the museum listing a $25 "recommended" admission price, saying some visitors were misled into thinking they had to pay that amount.
Since 2004, the number of adults who have paid the suggested entrance price in full has dropped from 63 percent to 17 percent. Voluntary contributions now average just $9, the museum says.
Factors that may have contributed to this include the economic recession as well as Met programs aimed at attracting younger people.
Weiss says the Met's overall attendance has increased by 40 percent over the past eight years, racking up a record 7 million visitors last year.
ASSOCIATED PRESS