Partnership, not dominance is goal: Cui
By Hong Xiao in New York | China Daily USA | Updated: 2018-01-18 17:04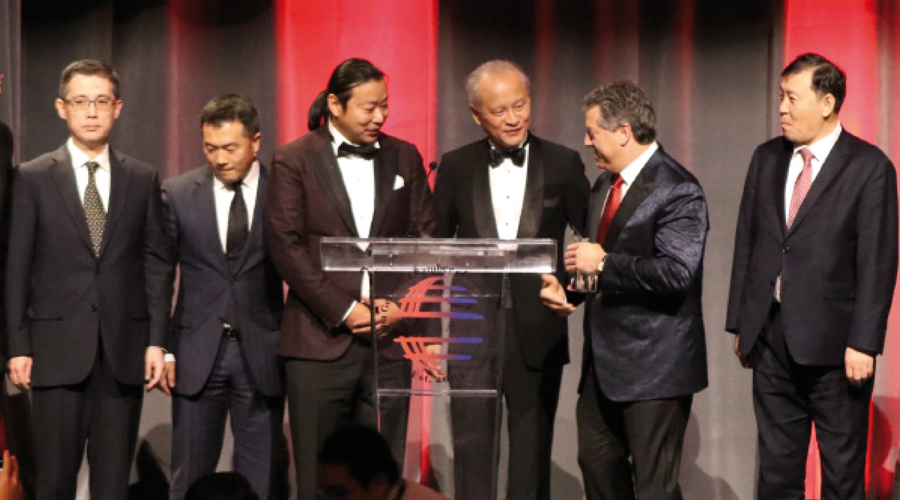 What China seeks in the world is global partnerships, not global dominance, its top envoy in the US said. As China is getting closer to the center of the world stage, "what we want to see is there is a symphony rather than a solo".
Those were the words of Cui Tiankai, China's ambassador to the US, who spoke at the China General Chamber of Commerce - USA (CGCC) Chinese Lunar New Year of the Dog Gala at the Ziegfeld Ballroom in New York on Wednesday night.
Cui said that China's focus is not on the transfer of dominance from one power to another.
"Our aim is to build a new type of international relationships and a community of mankind for a shared future," he said. "Therefore, China is continuing to seek cooperation with other countries to improve global governance, maintain international order, build peace and stability and promote common development."
Cui suggested that a good example would be the Belt and Road Initiative, which intends to build connectivity across continents.
"So that more countries would be able to participate in development and benefit from economic globalization," he said.
Cui said for all the partnerships that China has built across the world, the relationship with the US is the most significant and consequential.
"Despite all the differences between us, despite all the ups and downs, our cooperation has been deepening and broadening, bringing real benefits to people of the both countries," he said.
"Recently, I have noticed some voices of doubt about the wisdom of building this relationship, even attempts to question the value of people-to-people exchanges, even trying to raise political obstacles to culture exchange between our two countries," he said.
"Let me say this, nothing is more silly than questioning one's own success; nothing is more silly and harmful than denying the huge potential and great prospects of building a strong and mutually beneficial relationship between China and the US," Cui said.
For economic and trade relations, Cui said that the relationship is mutually beneficial because of the growing trade and two-way investment between China and the US.
"Of course, we are both facing challenges, such as uncertainty in the global economy growth, international financial turbulence," he said.
"I believe both the Chinese and American economies need an open and inclusive, more balanced and sustainable economic globalization with benefits more adequately shared with all countries," he added.
Cui believes that such imbalances do exist between countries in terms of trade.
However, "domestic imbalances will not disappear just because some people are trying to put the blame on other countries", he said.
During the gala dinner, Stephen A. Schwarzman, chairman, CEO and co-founder of The Blackstone Group, was honored as the Goodwill Ambassador for China-US Exchange.
Schwarzman is an active philanthropist with a history of supporting education and schools. In 2013, he founded an international scholarship program, "Schwarzman Scholars," at Tsinghua University to educate future leaders about China. With $450 million in funding, the program is the single largest philanthropic effort in China's history. The money comes largely from international donors.
"Giving the tremendous challenges we face in the global community, our two countries must work together productively in order to build a better world for our citizens and all other citizens around the world," he said.
HNA Group, a global Fortune 500 company focused on tourism, logistics and financial services, was awarded the brand of the year since "it has been actively expanding its industry chains globally in the recent years and it has shaped an outstanding Chinese enterprises brand image internationally", said Chen Feng, co-founder and chairman of the board of directors of HNA Group.
Marc Holliday, CEO of SL Green Realty Corp, was selected by CGCC as the most influential real estate person of the year.
More than 500 people from government, business communities and think tanks of the two countries attended, including Tung Chee Hua, honorary chairman of CGCC; Zhang Qiyue, Chinese consul general in New York; Maurice R. Greenberg, chairman and CEO of CV Starr & Co, and Xu Chen, chairman of CGCC.