Glass bridges draw tourists, concern
China Daily | Updated: 2018-01-22 09:55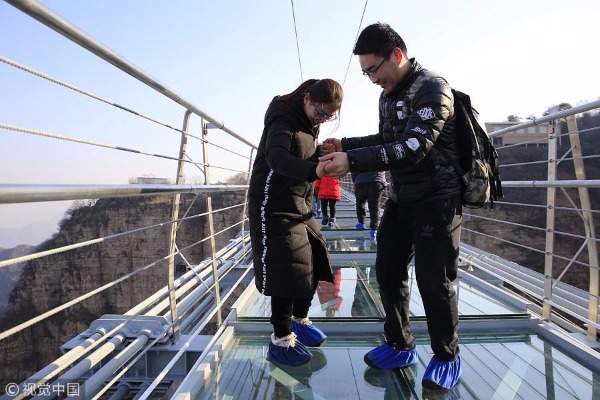 Tourist sites in mountainous areas are installing glass bridges to attract visitors looking for excitement.
Last month, a glass bridge called Flying Dragon in the Sky was opened in Marenqifeng scenic area in Wuhu, Anhui province. The area's management touts it as a "skyhigh" high-tech glass bridge that "combines cultural elements and a unique experience".
"There is a dragon made of fiber-reinforced plastics at both ends of the bridge, and smoke can billow from their mouths," said an employee at the site.
"The bridge also has LED displays on the surface, and when visitors step on the bridge the equipment will show images and make the sound of glass being shattered," they said. "It's very exciting."
The 388-meter bridge hangs 180 meters above the ground between two mountains in Marenqifeng, a national-level forest park and geopark.
Last month, a 488-meter suspension bridge was also opened in Pingshan county, Hebei province. The glass-bottom bridge is 4 meters wide and hangs between two cliffs around 218 meters above the ground, about as high as a 66-story building, at Hongyagu scenic spot.
In Zhangjiajie, a famous tourist destination in Central China, a 430-meter-long, 6-meter-wide bridge hangs between two steep cliffs 300 meters above the ground.