China to overtake New Zealand as Aussie tourists' number one destination
Xinhua | Updated: 2018-01-22 15:22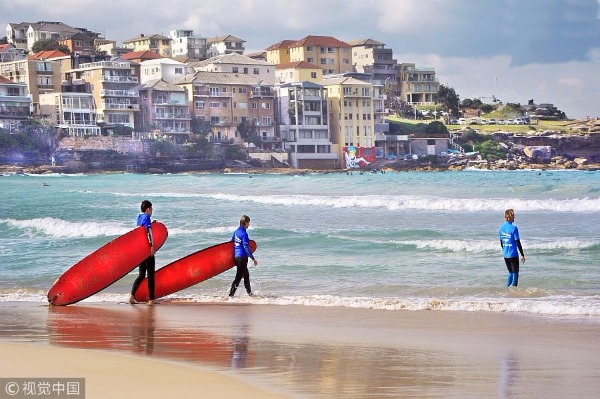 The number of passengers flying between China and Australia each year has soared to 2.7 million people, data revealed on Monday.
The statistics, compiled by Australia's Department of Foreign Affairs and Trade (DFAT), revealed that the passenger capacity for flights between the two countries has nearly tripled since 2007.
DFAT and the Department of Immigration and Border Protection found that the greatest rise in that period was in Chinese travellers to Australia.
Steve Ciobo, Australia's trade minister, said that the rise was so great that China was set to overtake New Zealand to be the number one international destination for Australians.
Between 2007 and 2016, the number of foreigners travelling to and from China on Qantas, Australia's flagship airline, rose from 123,800 to 445,000.
In the same period, the number of passengers flying that route on Chinese airlines jumped from 590,400 to 2.25 million.
"China has been gaining on New Zealand for more than a decade," he told News Limited on Monday.
"Importantly, this growth is set to continue with China's increased prosperity forecast to fuel another trebling of numbers over the next decade to 3.9 million by 2026-27."
The boom has had great benefits for Australian pilots, many of whom have taken up employment with Chinese airlines after being offered better pay and faster career progression.
"Once you go to China it is very difficult to come back. Airlines in Australia are based on seniority, so all the experience you have means nothing," Brett Austen, an Australian pilot now flying for Tianjin Airlines, said.
"You will start as first officer again with the major Australian airlines and maybe work back up to captain in eight to 10 years. For me, even though working in China was unplanned, it has given me great opportunities that were not possible in Australia.
"For money and vacation, these are one of the best contracts in the world today. This is the reason pilots are heading to China for work."