Choreographer-dancer to showcase her moves in Beijing
By Chen Nan | China Daily | Updated: 2018-01-27 09:15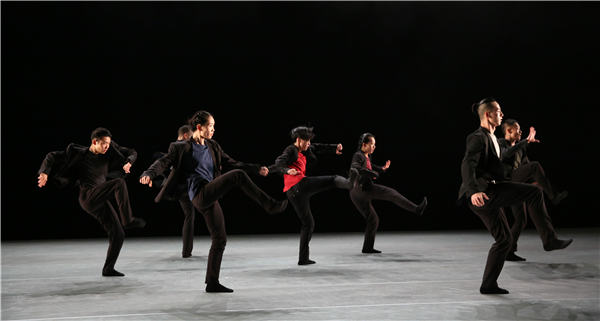 Three contemporary dance pieces set to light up the stage at annual arts festival.
Three contemporary dance pieces by choreographer-dancer Xie Xin and her theater will be staged over May 11-13 at the Tianqiao Performing Arts Center as part of the annual arts festival - Spring For Chinese Arts.
Speaking about the works, Xie, 32, who has worked with contemporary dance theaters, including Guangdong Modern Dance Company, Jin Xing Dance Theater and Beijing Dance LDTX, and later founded her own theater in 2014, says: "All my works come from within. I am influenced by the outside, such as a book I read, a film I watch or a person I talk to. Then I digest and turn those influences into my choreography."
The first piece, titled From In, an award-winning piece at the 29th Germany Hannover International Choreography Competition, was born from an idea that "as human beings, we share memories with each other when we meet at the same moment and in the same space, which creates a special link", says Xie.
In the work, Xie and her dancers interpret the Chinese word, ren, or person, with dance moves.
The piece, which premiered at the National Center for the Performing Arts in Beijing in 2015, has also been staged at the 48th Kuopio Dance Festival in Northern Savonia, Finland, in early 2017.
Speaking about the piece, Kuopio Dance Festival artistic director Jorma Uotinen says: "In Xie Xin's style, I see features that you might not find in European contemporary dance."
The second piece, Unknown, is a collaboration between Xie and Eyal Dadon, the choreographer of the Israeli Kibbutz Contemporary Dance Company.
The piece, which was premiered in 2016 at the NCPA, is an exploration and innovation with time.
In its upcoming performance, audiences will see a new version of Unknown, which is a 80-minute-long piece containing two parts: Later and Layers.
The third piece to be staged in Beijing is the latest choreographic work by Xie, titled Obsession, and is based on physical movements and dramas.
Speaking about the piece, Xie says: "After three years of dealing with my own theater I want to say with my works that the body doesn't simply mean actions. It's the creation of different strengths. And imagination comes first, of course."
Xie, who was born in 1985 in Ji'an, Jiangxi province, learned traditional Chinese dance from her dancer mother.
Initially, she didn't intend to become a dancer, but was later drawn to the idea of expressing herself with her body movements.
"My mother was against the idea of me becoming a professional dancer because it's not considered as a stable job. But I have a strong will to do things I love. I was so persistent," she says.
So, in 2004, she graduated as a contemporary dancer from the Guangdong Dance School.
And from then on she was keen on experimenting with her ideas while dancing.
As a dancer-choreographer, she is not afraid to take risks and always keeps her mind open.
Xie has won a number of awards as a choreographer, including the gold award at the 14th Italy Rome International Dance Competition in 2015, and the gold award at the Seoul International Dance Competition in 2016.
Separately, every August, she invites international choreographers to give master classes and workshops to her young dancers.
Speaking about the project, she says: "As a dancer, I've seen my limitations and I want my dancers to widen their horizons."
Before the Beijing performance, Xie will take two of her two works, Unknown and From In to Shanghai, on March 23 and 24.
If you go
7:30 pm, May 11 to 13. Tianqiao Performing Arts Center, 9 Tianqiao Nandajie, Xicheng district, Beijing. 400-635-3355