Cao Yu's classic Peking Man returns to capital
By Chen Nan | China Daily | Updated: 2018-01-29 07:59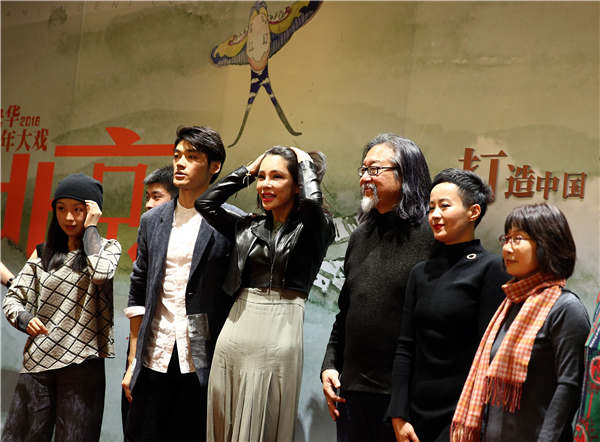 In 1980, Stan Lai Shengchuan, then a 26-year-old student from Taiwan, who was pursuing his PhD in dramatic arts at the University of California, Berkeley, attended a talk by Chinese playwright Cao Yu (1910-96) about Chinese theater at the school.
Cao Yu, whose real name is Wan Jiabao, the founding member and first president of the Beijing People's Art Theater, was accompanied by Ying Ruocheng (1929-2003), the famous actor, director and translator who would later become China's vice-minister of culture. Lai had the chance to talk to them and got to know more about the work of the Beijing People's Art Theater.
"It was a lifelong influence on me," recalls Lai. "I was not so sure about my future in theater, since most of my friends in Taiwan studied science and technology. They didn't understand why I wanted to learn drama. But Cao said in his speech that theater was like a language without borders. He also shared his experiences of writing for contemporary Chinese theater, which were very inspiring."
In 1983, Lai received his PhD and returned to Taiwan, where he founded a performance workshop along with his wife, Ding Nai-chu, where they explored the boundaries of theater. Lai developed from this to become a renowned playwright and stage director, with more than 30 original plays, including A Dream Like A Dream, That Evening, We Performed Cross-talk and Secret Love in Peach Blossom Land.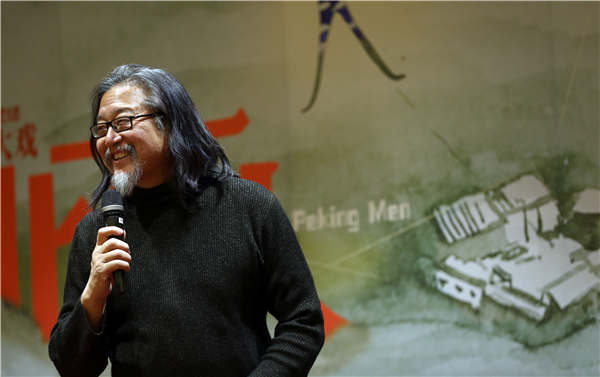 Now, aged 64, Lai will direct the play Peking Man, which is based on Cao Yu's famous play of the same title. The play, produced by Beijing-based company Magnificent Culture, will make its debut on March 30 at the Capital Theater in Beijing.
"This will be the first time I have directed a play by Cao Yu, which is an honor and a chance to reconnect with this great dramatist," Lai says in Beijing. "It reminds me of my early days in theater, and I will present the writer's ideas authentically."
Peking Man is Lai's favorite work by Cao Yu and is generally regarded in theater circles as the dramatist's best play.
The play premiered at the Beijing People's Art Theater in 1957 and was restaged in 1987. In 2006, theater director Li Liuyi was commissioned to stage the play once again to mark the 10th anniversary of Cao Yu's death.
Written in 1941, the four-act play set in Beijing, dramatizes the conflicts in a declining feudal family during the 1930s. The patriarch Zeng Hao spends his days recalling the glorious years of the past. His eldest son, Wenqing, does nothing all day and lives off his father. Wenqing's wife, Siyi, is the boss of the house, while Zeng's son-in-law is a playboy. Sufang, Zeng's niece, is the only member of the family who appears reliable but she falls in love with Wenqing. She remains single for Wenqing and finally leaves the family for freedom and a new life.
"Peking Man reminds me of my mother. The character, Sufang, bears some similarities with my mother, who was hardworking, good-hearted and forbearing," says playwright Wan Fang, daughter of Cao Yu.
"The character is a typical traditional Chinese woman, and my father loved the role very much."
Sufang will be played by award-winning actress Ju Xue. The cast also includes actress Kong Wei who plays the role of Siyi, and actor Yan Nan who plays Wenqing.
"All the characters in the play are dissatisfied with their lives and are looking for something better. But against the backdrop of feudalism, they put up with the situation, and none of them ever find happiness," says Yan, 36.
Wan Fang says that her father was heavily influenced by the dramatic world of the Russian playwright Anton Chekhov, whose plays have been frequently staged in China.
"The connection with Cao Yu continues through my work with Wan Fang. We want to carry on the great playwright's legacy and keep his works alive by performing them for today's audiences, especially younger people," says Lai.
If you go
7:30 pm, March 30. 22 Wangfujing Avenue, Dongcheng district, Beijing. 010-6525-0996.