California skater, 12, a rising star
By LIA ZHU in San Francisco | China Daily USA | Updated: 2018-02-03 05:28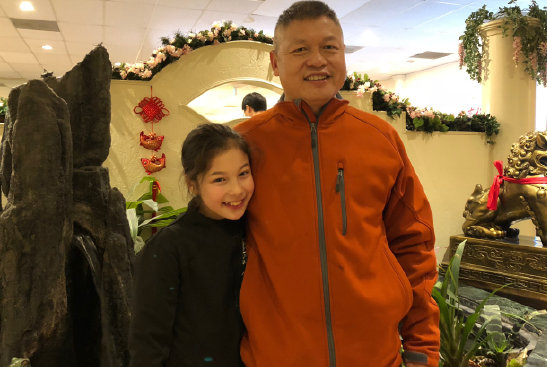 Young as she is, Alysa Liu reels off senior-level triple jumps as she trains as a professional skater at the Oakland Ice Center.
The 12-year-old won the junior ladies title in January's US Figure Skating Championships in San Jose. She was the youngest skater in the competition.
"I wasn't very sure (to win). My competitors were so good, but I hoped I was the best," said Alysa.
The budding skater said her next goal is to win the senior national. Her ultimate goal is to head into the Olympics.
Alysa showed a talent for skating at age five and has been training since then, said her father, Arthur Liu, an Oakland-based lawyer.
"I found she learned very fast. She learned flip jumps this week, and she could complete in triple jump next week," said Liu. Serious training only started three years ago, he said.
In 2016, then 10-year-old Alysa became the youngest ever to win an intermediate-level national title with four triple jumps in her performance. Last year, she placed fourth in the novice division of the US Figure Skating Championships while attempting seven triple jumps.
She then won the junior competition at the US Challenge Skate in September and finished first last month at the Pacific sectionals.
The biggest challenge is not to get hurt, Alysa explained. "I have stitches in my knees and one time I also had multiple injuries in my hip and couldn't walk properly," she said.
But it doesn't prevent her from advancing her techniques. "I like learning new jumps and trying new things," she said.
Liu said he was a big fan of Michelle Kwan, a two-time Olympic medalist and five-time world champion. He first became fascinated by figure skating when he immigrated to the US from China in the 1990s.
But he said he never expected his daughter to be a super star like Kwan. He just wanted her to be happy.
The 4-foot-7 Aylsa looks quiet. "She is a shy girl. But I found it's easier for her to make friends on ice," said Liu. Her friends include college students and adult skaters.
During weekdays, Liu takes Alysa to the rink to train for four to five hours a day, including two hours of private lesions. On weekends, she also has one to two hours to practice on ice.
Liu started homeschooling Alysa through an online program two years ago so that she could concentrate on skating. "She can even take classes in the car while I'm driving," said Liu.
The setup is the same as other Chinese-American skaters such as Vincent Zhou and Karen Chen, both of whom are from the Bay Area and made it into the PyeongChang 2018 Olympic Winter Games.
Liu said Chinese parents are more willing to invest in their children's education and training. He said he spent most of the time with his daughter during her training and even learned the techniques himself.
"I can work as a referee now," he said jokingly. "My scores are within five points of the final scores."
Alysa is the oldest of five children being raised by Liu, a single father. The other kids also skate on weekends, but just for fun. "The private lessons are pretty expensive," said Liu. "It costs $120 an hour."
Hopefully it will one day pay off in gold.
liazhu@chinadailyusa.com