More people blazing their own tour trails
By Cheng Si | China Daily | Updated: 2018-02-09 10:36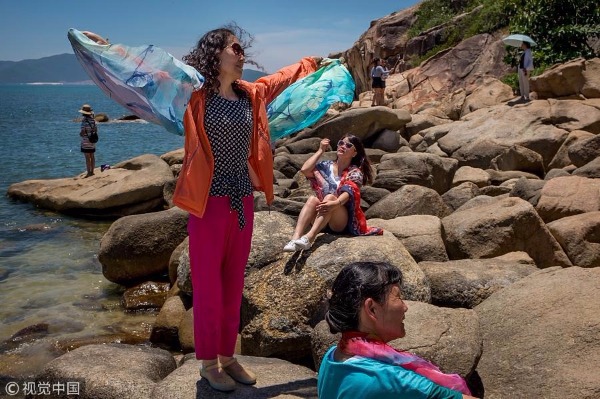 Self-guided tours have become the most popular alternatives for Chinese residents during their Spring Festival holiday, according to research released by the National Tourism Administration on Thursday.
Over 50 percent of Chinese families will take a self-planned trip during the seven-day break. High-quality services and branded travel agencies are being considered by travelers rather than price, the administration said in its Tour Guide for the Spring Festival Holiday.
The guide shows that nearly 40 percent of those with travel plans have signed contracts with well-known travel agents, while only 6.2 percent reserved low-price products offered by lesser-known agencies.
"Travelers have become more rational when choosing tour products," said Hou Zhengang, inspector of the administration's Comprehensive Coordination Department. "This is what we are delighted to see and we encourage travelers to choose products and routes with full consideration of their budgets and interests but not slavishly attracted by price."
About 385 million domestic visitors will be received during the holiday and revenues of 476 billion yuan ($75.3 billion) will be generated during the time, up 12 and 12.5 percent, respectively, compared with the year prior, according to the administration's data.
People, however, tend to stagger their travel plans rather than flocking to the scenic spots during the holiday thanks to the implementation of paid vacations, the administration said.
The administration also said that leisure travel destinations - hot spring resorts for example - have attracted the most attention from travelers. Optimism is also up over tour packages with activities involving winter sports and local delicacies.
"Travel destinations featuring folk culture, winter sports activities and high tech options offer various choices to travelers," Hou said. "But safety still remains the most important issue as we've emphasized."
Four tips on safe tours including transportation, product purchases and civilized behavior are contained in the newly released Tour Guide.
"Safety is always the top priority during the journey. We suggest people engaged in outbound visits follow safety tips given by the administration and the Ministry of Foreign Affairs," Hou said. "Natural environment, social customs and religious beliefs of the travel destinations should also be respected."