China's express delivery sector prepares for post-holiday bonanza
Xinhua | Updated: 2018-02-24 14:10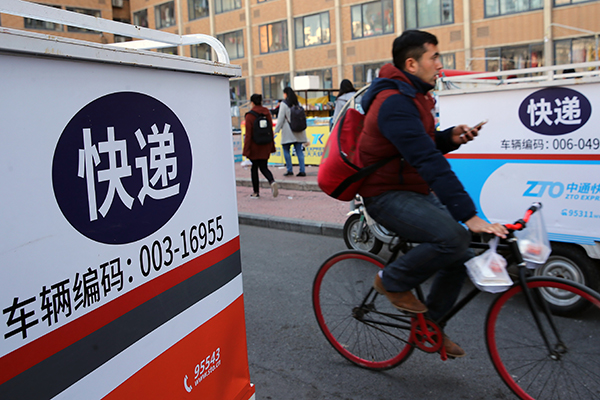 BEIJING -- China's express delivery sector is getting ready for a post-holiday boom, after many services were suspended during the Spring Festival holiday that ended Wednesday.
Firms have mobilized enough couriers and logistic facilities through bonuses and promotions for those who return to work to help cope with the upcoming hectic days.
The weeklong holiday is generally a slack period as most delivery couriers go back in their hometowns to see their families.
More than 68 million parcels were still delivered from Feb 15 to Feb 21. In peak season, the number of parcels can be 100 million each day.
Four delivery firms including state-run EMS and private SF Express accounted for 85 percent of the total.
China has the world's largest express delivery sector, accounting for more than 40 percent of the world's total deliveries, thanks to online shopping.
Over 40 billion parcels were delivered last year, up 28 percent, generating 496 billion yuan ($77 billion) in terms of revenue, a rise of 24.7 percent.
Growth of delivery services has created jobs, with the number of employees in the sector up 130 percent by November 2017 from January 2014, according to the China Federation of Logistics and Purchasing.
The country plans to extend the courier network and improve systems, services, and international connections by 2020 with a target annual revenue of 800 billion yuan.