Overseas travel agencies work harder to attract Chinese tourists
Xinhua | Updated: 2018-03-12 09:47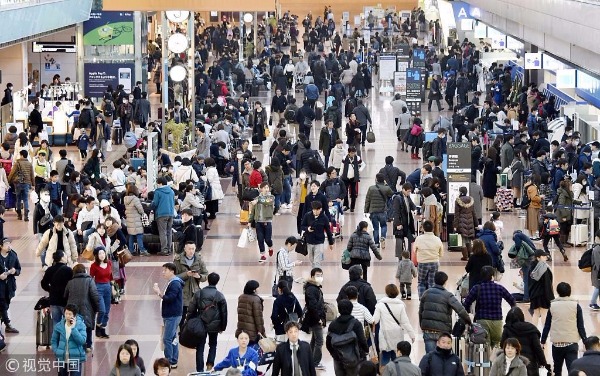 Visitors to a travel fair in the southern Chinese city of Guangzhou were amazed to see a three-meter tall Trojan Horse in the exhibition hall.
"Can I climb into it? I want to know how it feels to be an ancient Greek," a visitor surnamed Guo asked staff with the Turkish culture and tourism office.
Guo was among more than 170,000 visitors to the annual Guangzhou International Travel Fair last week, which attracted 1,029 companies from 53 countries and regions.
Chinese travelers made 130.5 million overseas trips last year, spending more than $115 billion, making the country the world's largest source of outbound tourists for five years, according to a report based on market survey done by organizations including China Travel Academy.
To attract Chinese tourists, travel agencies at home and abroad have to develop new products with distinctive features, said Li Xiaojian with GZL, a Guangzhou travel agency.
"I used to travel with groups, but now I prefer to travel by myself," said Wu Kangyi, a visitor to the fair.
Popular destinations are working to adapt to cater to Chinese tourists.
This year is the Year of Tourism between China and Turkey and also Turkey's "Year of Troy."
"We hope that through our exhibition Chinese tourists will learn more about Turkey," said Tai Feng, counselor at the Embassy of Turkey in Beijing, China.
Pan Fenglin, senior official with the Consulate-General of Italy in Guangzhou, said Chinese tourists are now visiting small towns with history and beautiful sceneries such as Macerata and Matera, instead of Rome and Venice or other metropolis traditionally favored by Chinese tourists.
"Town tours are a new trend for Chinese tourists," he said.
Travels focusing on pop culture and sports are also where agencies will expand.
Targeting Chinese soccer fans, some agencies have products that include watching football and tours of football clubs in Britain and Spain.
Agencies are positive about family trips as well. Reunion Island on the Indian Ocean centers on parents and kids this year in China, saying that tourists are welcome to teach kids about marine protection among other things through lively activities on the island.
The Italian Costa Cruise has added a soccer training service to kids on the ships.
"Chinese consumers have changed their attitudes towards travel. They want richer and more diverse experience," said Li Xiaojian with the Guangzhou travel agency GZL.