Older netizens benefit from use of internet, report says
By Jiang Chenglong | China Daily | Updated: 2018-03-23 07:14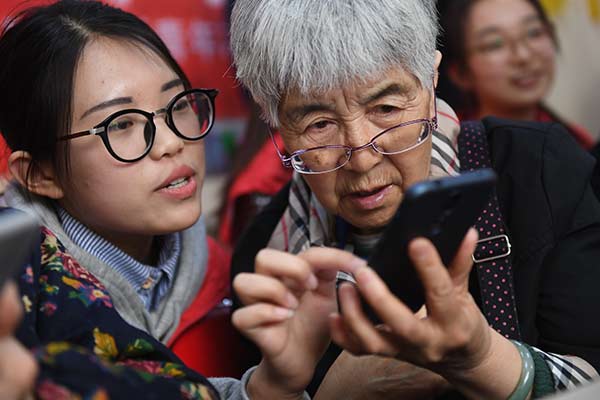 A large proportion of middle-aged and elderly Chinese netizens have benefited greatly from the internet-including browsing news and using mobile payments-despite the risk of being cheated because of inadequate networking skills, according to a report released recently.
The Chinese Academy of Social Sciences and Tencent's Research Center on Society collected nearly 1,000 questionnaires from netizens older than 50 living in eight cities who use WeChat. Tencent, the developer of WeChat, also shared a user analysis based on big data using nearly 35.8 million samples.
According to the report, 75.8 percent of netizens over 50 browsed news and information on the internet.
"Nowadays, the internet has become entwined with our lives. Increasingly, people's needs can only be satisfied by online services, such as online hospital registrations and communicating with remote colleagues," said Zhu Di, deputy researcher at the Chinese Academy of Social Sciences' Institute of Sociology and a member of the research team.
Most of the information read by older netizens focused on national politics, the military and health maintenance, the report said. In addition, it said, more than 70 percent of older netizens enjoy reading motivational materials and jokes online.
Internet skills were acquired by a number of older netizens, including the use of mobile payment systems and online car-hailing services.
Ji Ying, 61, who lives in Hefei, Anhui province, usually browses healthcare links.
"I often check medical and health knowledge on my smartphone, which I think is quite convenient," Ji said. "The other day I described my symptoms of dyspepsia online and asked for treatment advice. One hour later, a doc-tor from a well-qualified hospital answered my questions. That only cost five yuan ($0.79)."
The report also pointed out that some older users easily misunderstand or are deceived by inaccurate and fake information on the internet. Of those cheated online, 60.3 percent fell for offers to collect free "red pocket" money. Getting free data packages was another big reason for them to be cheated, accounting for 52.3 percent of those tricked.
"I seldom believe those messages, unlike many other older people," Ji said, "but I'm often told by family members that the health-related information I read is fake."
"Generally, the internet benefits me a lot. And there truly is false information on it, so we older people should be careful to distinguish it," she said.
According to China Internet Network Information Center, there were nearly 80.3 million netizens over 50 at the end of 2017, accounting for 10.4 percent of internet users.
Zhu thought the internet was a two-edged sword.
"Although some older users face certain problems when using the internet, as individuals they should be actively involved in the internet's development by enhancing their ability with outside help," she said.
"That's what I think the government, families and companies should do together, such as filtering the information and rumors and guaranteeing payment safety. This way, they will be more willing to use the internet."