Classic Tianjin snack gets new allies
By Yang Cheng in Tianjin | China Daily | Updated: 2018-03-23 08:51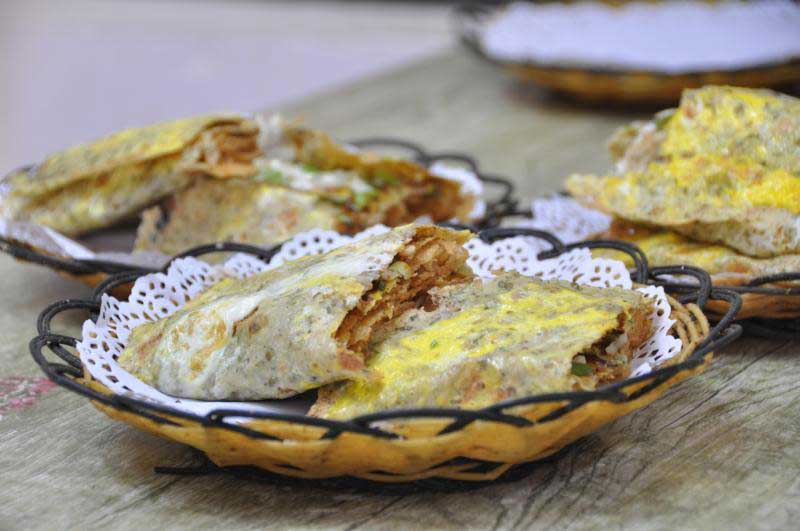 International food fans and organizations have shown a keen interest in contacting a new association for the renowned Chinese snack known as jianbing guozi - deep-fried dough sticks rolled in a thin pancake. The association was established this month in Tianjin, the snack's birthplace.
Song Guanming, chairman of the Tianjin branch under the Tianjin Catering Industry Association, said he didn't expect all the attention.
The food has a history of 600 years in the city and has become a favorite gourmet flavor worldwide, Song said.
In every city around China, and even in some other countries, jianbing guozi can be found. It's always beloved, but the ingredients vary by region.
Sticks made of bean with a thin pancake is traditional, but in some places, sea cucumber, ham sausage or even squid are added. Three local brands Ersao, Deluzhai and Jinlaowei have been honored as part of the city's intangible cultural heritage.
Liu Yushun is a fifth-generation member of the family business Jinlaowei, which originated in 1912.
Around the world today, the snack has gained a reputation for diverse cooking styles. But "the tradition needs to be inherited and protected from generation to generation", Liu said.
He expects the new association to make substantial efforts toward inheriting 600 years of intangible culture, preserving the most "traditional" flavor.
To that end, the association announced it would team up with local quality inspectors to research and release an industry standard, but that will take time.
"Our move has triggered debates over whether it is meaningful to unify the cooking standards of the food," Song said. "However, it's not our aim to make it standard like KFC fast food. We just aim to better regulate the cooking process, techniques and health safety for the time-honored Tianjin style in its hometown."
The association indicated that it doesn't mean to regulate the proportions of the ingredients, the taste of the sauce or make every stand selling it provide the same flavor.
However, it is dedicated to protecting the techniques of the most traditional jianbing guozi, which the genuine inheritors want to preserve.
The association also announced it will open chain services and offer membership certificates to influential and qualified vendors.
In an earlier interview with China Daily, Brian Goldberg from the United States said he opened a Mr Bing restaurant in New York and Hong Kong to sell jianbing after he studied the cooking techniques in China.
He said jianbing gave him "great memories" of his student days in China, and his restaurant in the United States soon made headlines.
In his restaurant, egg spread over crepe, followed by sea cucumber, scallions, cilantro, chili, roast duck and crispy wontons, make for an amazing experience.