Chinese doctor's skills, dedication praised in Sierra Leone
By Xu He | chinadaily.com.cn | Updated: 2018-03-23 16:34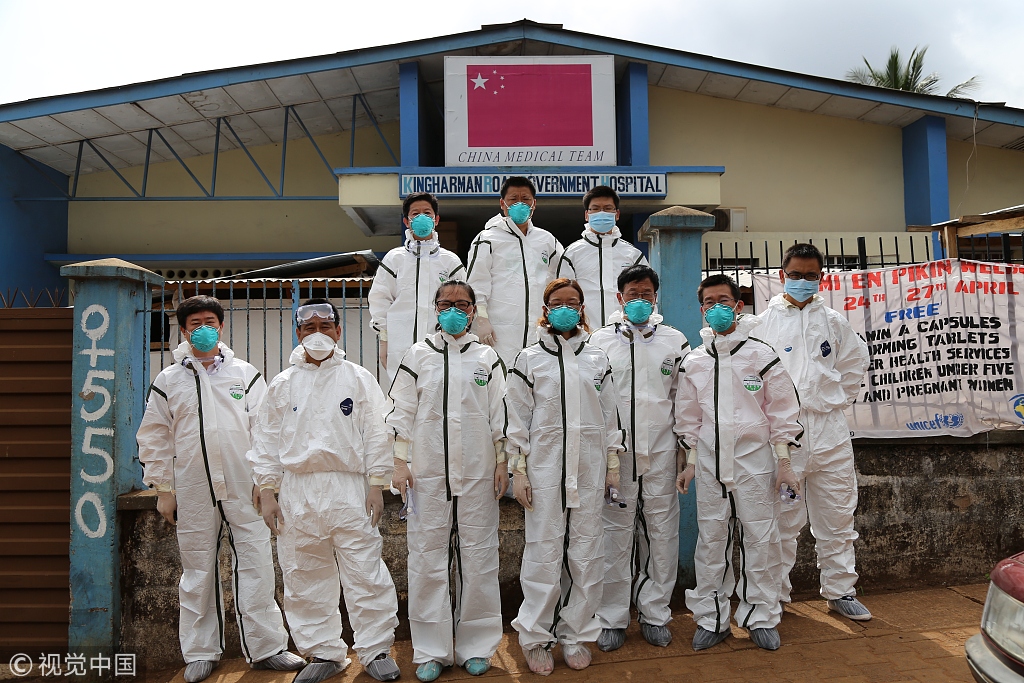 Xiong Bangwen is a Chinese doctor who's won respect and admiration in Sierra Leone for his extraordinary medical skills and dedication during his deployment in the African country.
"He is a good Chinese doctor who devoted himself to his work. We really appreciate it that the Chinese government can send him, an excellent surgeon, to our hospital," said a letter written by Dr Alex Kanu, the dean of Sierra Leone-China Friendship Hospital, that was put on the desk of the Health and Family Planning Commission of Hunan Province Wednesday.
Xiong, a surgeon from the People's Hospital of Hunan Province, arrived in Sierra Leone with 19 other doctors in May 2017 to provide medical aid to the disease-ravaged country. Based at the Sierra Leone-China Friendship Hospital in Freetown, capital of Sierra Leone, Xiong's daily routine there is packed with surgeries due to a shortage of staff members.
The shortage of medical resources and outdated medical facilities were always big challenges for local doctors, but the difficult living conditions and resulting health problems across the country made the work even more difficult. But Xiong has never allowed these factors to influence his diligence and professionalism.
On March 10, for example, a 35-year-old man who had suffered from acute abdominal pain for three days and had fallen into a clouded mental state was sent to the hospital. As the hospital was unequipped with modern medical facilities, such as a type B ultrasound scanner and CT scanner, a diagnosis couldn't be made.
Based on the limited availability of sophisticated medical equipment, Xiong used his rich clinical experience to diagnose a volvulus sigmoid colon. The patient needed surgery immediately or risked losing his life. Although Xiong had just performed two operations in succession, he braced himself for his third operation in one day.
After four hours, Xiong and his team managed to save the critically ill patient in the first sigmoid colon torsion necrosis operation performed in Sierra Leone.
Last year, he and his teammates saved the life of a critically ill patient who suffered volvulus and intestinal necrosis, carrying out the surgery despite several power failures.
In addition to the difficult living situation abroad, the medical staff also faces the risk of exposure to infectious diseases, such as Ebola, AIDS and malaria. But the medical team carries on its work. To treat as many outpatients as possible, Xiong generally arranges for surgeries during his breaks and often operates late into the night.
Xiong and his teammates also help train the hospital's nurses to meet the standards of surgical operations, which significantly improve the outcomes of the local medical staff's treatments.
"His outstanding ability has made him a well-known person here," Kanu said in the letter.
The Sierra Leone-China Friendship Hospital was launched in 2012 as an outgrowth of bilateral ties hailed by officials of both countries to help treat illnesses and reduce the burden on the country's medical system.
The medical team not only provided medical aid, but acted as a bridge that built a stronger friendship between the two countries.