China's skilled workers incentivized to succeed
Xinhua | Updated: 2018-03-24 09:47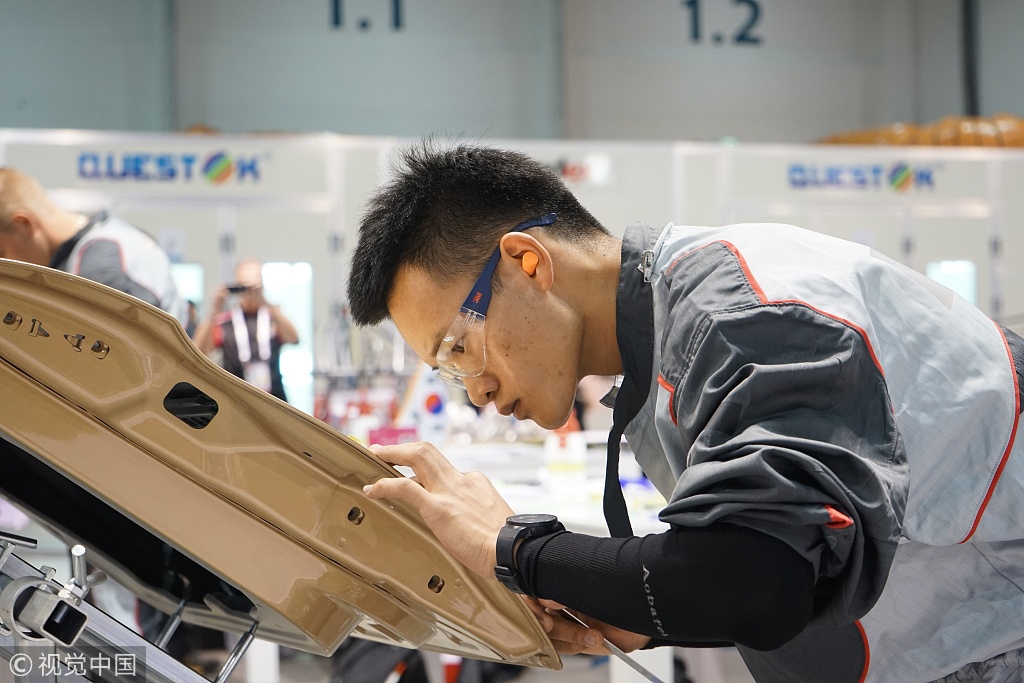 BEIJING -- Car painter, Jiang Yingcheng, has joined the exclusive club of "super technicians," the youngest person in East China's Zhejiang province ever to do so.
The honorary title will give the young assembly-line worker the same status and benefits as an engineer with a doctorate. At the 44th World Skills International in 2017 in Abu Dhabi, Jiang won the car-painting championship.
"Receiving the title is a great honor and a greater responsibility. It encourages me to devote myself to my work, to improve my skills and pass them on to other skilled workers," Jiang said, who also teaches at Zhejiang Technician College.
Jiang is lucky. He has a rare talent. A shortage of skilled workers is a long-term problem for China, but things are starting to change.
SERIOUS IMBALANCE
As a key aspect of the "Made in China 2025" manufacturing upgrade, China is expanding its pool of skilled workers. On Thursday a guideline was issued on incentivizing skilled workers through their political status, incomes and social benefits.
China has an employed population of 776 million, of which a mere 165 million are skilled, and less than a third of those count as "highly-skilled," about six percent of the entire workforce.
"There is a serious skills imbalance between demand and supply in the labor market," said Lu Aihong of the Ministry of Human Resources and Social Security.
"We need more skilled workers and improving their conditions and wages are just two of the ways to inspire them," he said.
Skilled workers have long been long undervalued, with low incomes, little job security and low social status. The guideline encourages enterprises to draft incentive plans in career development and salaries to motivate technical personnel.
CREATIVITY, STATUS, RESPECT
The Made in China 2025 strategy is characterized by a switch from low-end manufacturing to more value-added production, with a focus on emerging industries. That calls for more highly skilled industrial workers.
In some job fairs in Guangdong and Fujian provinces, salaries as high as 20,000 yuan ($3,200) a month are on offer, but qualified technicians are simply not there.
China is expected to face a shortage of around 3 million skilled workers by 2020, and the gap will expand to 4.5 million by 2025.
Vocational education is the key to the cultivation of these workers.
Xing Hui, director of the National Academy of Education Administration vocational education center, believes that methods and curricula in vocational schools should be employment-oriented.
"We need integration between industry and education. Vocational schools should work closely with enterprises in nurturing talent," Xing said.
In February, the Ministry of Education released a guideline on cooperation between vocational schools and enterprises. Enterprises are encouraged to offer internships and invest in training.
"Incentives inspire creativity. Higher status and incomes bring respect," said Lu.