Mysterious beauty of Ganquan Canyon's sandstone scenery
By Huo Yan and Li Yang | China Daily | Updated: 2018-05-01 09:05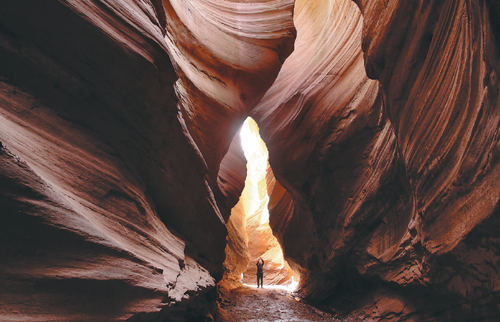 A series of towering ravines are one of the natural wonders of the Loess Plateau.
Ganquan Canyon in Ganquan county, Northwest China's Shaanxi province, earned overnight fame as "China's Antelope Canyon" after Chang Bo's photos went viral online last year.
The only three lodges in Xiasiwan town, the nearest major settlement 20 kilometers from the canyon, and 80 km from Yan'an, have been full of tourists and photographers ever since.
It was beyond Chang's wildest expectations that his photos made such a difference to the people's lives there. He first visited the canyon when he was working as a welder in a local oil extraction plant in 2005. Chang felt his way through the eight slot canyons strung together in the meandering Ganquan Valley on the Loess Plateau, after a friend told him about this place of "unknown mysterious beauty".
Chang uploaded the photos he shot of the canyon onto his blog, but few people saw them. But when he shared some of the photos on social media last year, the images became an instant internet sensation - and evoked comparisons with Arizona's Antelope Canyon.