The hidden scars that take years to heal
By CUI JIA/WANG KEJU/YANG WANLI | China Daily | Updated: 2018-05-11 07:40
Many survivors of the Wenchuan earthquake, which struck 10 years ago this week, are still experiencing psychological problems.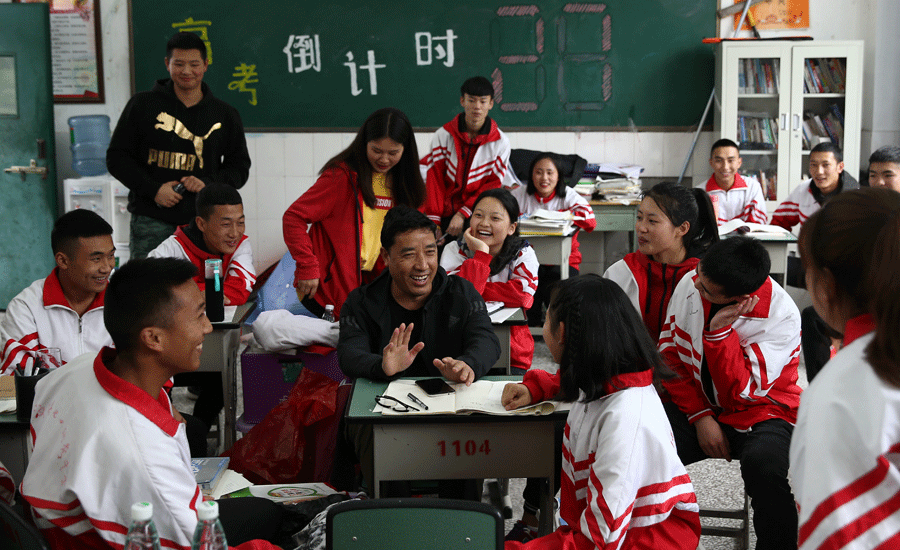 Chen Heqiong vividly remembers the absolute darkness that engulfed her when she was trapped for three days below the ruins of her high school after a magnitude 8 earthquake hit Yingxiu, Sichuan province, on May 12, 2008.
The temblor, known as the Wenchuan earthquake, claimed 69,226 lives and left another 17,923 people missing. It also left the main building of Xuankou High School in the mountain township severely warped and leaning precariously to one side. Buildings were destroyed almost immediately in the worst-affected areas of the quake zone, which covered about 130,000 square kilometers.
The twisted school building is now part of the local earthquake museum. Every year, on May 11, Chen visits the site on her own to "talk" to the 54 students and eight teachers who lost their lives. Most of the students and teachers were in classrooms and school offices when the quake struck at 2:28 pm on the first day of the school week.
"It's a form of therapy for me. I avoid going there at all costs, except for that one day. After all, it was a day the people of Yingxiu, including me, have been trying to forget," said Chen, 50.
She now works as a psychological counselor at a new school, named Qiyi, which was built after the quake. It stands near a huge boulder that rolled down the mountain during the disaster and has become a tourist attraction because it marks the epicenter of the quake.
Ten years on, all the schools in the province that were damaged or destroyed have been rebuilt and fitted with state-of-the-art teaching equipment. However, many of the students who survived the quake are still struggling with post-traumatic stress, and it may take decades for them to recover fully, according to Chen, the teacher-turned-counselor.
"The earthquake has left a giant boulder in everybody's heart. Some people are able to walk past it, while others remain stuck behind it," she said.
As a result, many teachers in the quake zone have retrained as psychological counselors to provide step-by-step assistance for troubled survivors, even those who have graduated and started their working lives.
"As someone who was trapped and then rescued, I can perfectly understand what students who had similar experiences went through. I can connect with them and they trust me," said Chen, who had gained a bachelor's in educational psychology a few months before the earthquake struck.
In 2009, when the new campus came into use, Chen, who once taught political education, became a full-time counselor at the school because she believed the students' psychological wounds should be treated as quickly as possible.
During the following year, she helped a student who began crying uncontrollably when the teacher asked the class to write letters to their relatives, because he had lost his father in the quake. She also held therapy sessions with a student who told her she saw no point in living after her mother and grandmother died in the disaster.
Feng Chengjie, a former student of Chen's, knows he was fortunate to survive.
"My left leg was stuck in the rubble and I was trapped for more than two days. But I consider myself lucky because a classmate who was right behind me as we tried to escape died when the ceiling fell in," said the 24-year-old, who started working in Chengdu, the capital of Sichuan, two years ago after graduating from a university in the city.
Although the muscles in his left leg were badly damaged below the knee, the doctors treating him were able to avoid amputation. However, the leg was permanently damaged and the scars are obvious.
In 2009, after completing his studies in junior high school at the temporary tent campus in Yingxiu, Feng began attending a senior high school in another township. That was when he first noticed his emotional scars.
"When my new classmates asked what was wrong with my leg, I immediately became very angry and refused to say another word," he recalled.
Eventually, he decided to consult Chen in an attempt to deal with his stress before it became worse.
"She told me it was perfectly normal to feel uncomfortable about people's questions about my injury, but I should understand that my new classmates only asked because they cared about me," he said.
"She also encouraged me to accept my injury as a part of the 'new me', and that there was nothing to be ashamed of. Now, I have no problem explaining about the earthquake and what happened, but I don't want to be treated differently because of what I went through 10 years ago."
Feng keeps in close contact with a student who was rescued from a high school in Yingxiu that was also severely damaged. The two shared a room in the hospital and quickly became friends.
"One of his legs was amputated, and he lost his father. The earthquake is still a forbidden topic for him. He gets very angry and swears at people if they mention the event, which he believes destroyed his life," Feng said.
Although Feng doesn't mind talking about the quake, he usually refuses to visit Yingxiu: "The old school is still there. I don't really want to see it."
However, he will make an exception this year, to attend a class reunion.