More nurses are needed to care for graying population
By Jiang Chenglong | China Daily | Updated: 2018-05-11 08:55
Focus shifts from nursing homes to more community and at-home service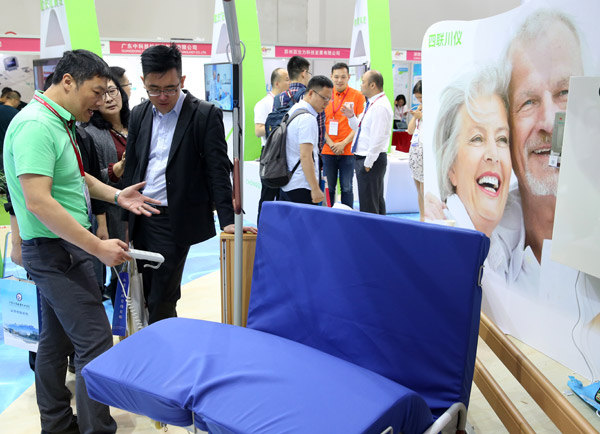 More seniors will be able to receive nursing care - not only at elderly care facilities but also within communities and even at home in the future, according to a healthcare official.
"Based on our national conditions, nursing care provided by organizations should not be our main future direction," said Jiao Yahui, deputy chief for medical administration and supervision for the National Health Commission. "The main bodies offering care for the elderly should mostly be communities and home-care options, with priority given to communities."
Hospitals are currently the main providers of nursing services for the elderly in China.
According to the National Committee on Aging, there were 241 million people over 60 in China at the end of 2017, accounting for 17.3 percent of the total population. Those from 60 to 69 made up 56.1 percent of that group, or 135 million people.
Yet there were only 3.8 million nurses nationwide in 2017, which is insufficient to care for the country's elderly, Jiao said, noting that elderly includes healthy individuals, those with chronic diseases and those able to look after themselves to some degree. "So we are now extending our nursing services for the elderly from hospitals to communities and even homes," Jiao said. "Our healthcare centers within communities can send staff to seniors' homes."
Shanghai has been setting up nursing centers within communities since 2016, with the goal of bringing such services closer to where people live.
Wen Daxiang, deputy director of the Shanghai Health Commission, said: "Up until the end of 2017, there were 108 nursing centers in the city, 99 of which were operated by private companies."
In terms of easing the economic burden on nursing services, the National Health Commission has been paying more attention to long-term care insurance. The insurance is designed to provide economic assistance to those who lose the ability to tend to their daily needs as they grow old.
"This can help with seniors' long-term nursing expenses to a certain extent," Jiao said.
In 2016, 15 pilot cities in China were designated to pilot long-term care insurance, including Shanghai; Guangzhou, Guangdong province; and Chengdu, Sichuan province.
The nursing profession in China is becoming much stronger in terms of quantity and quality, Jiao said. "The number of registered nurses in 2017 rose by 126.5 percent over the 1.68 million in 2008," she said. "And 67 percent of them have college or higher degrees.
"However, there is still a huge gap between supply and demand. Our society should pay more attention to promoting the profession so more people will decide join their ranks."