Tourists warned to stay away from rare camel habitat
By Zou Shuo | China Daily | Updated: 2018-05-11 08:57
Travel agencies have been offering expeditions to Lop Nur in the Xinjiang Uygur autonomous region for travelers looking to conquer the no man's land in the region's southeast.
But the trips are illegal. The Lop Nur Wild Camel National Nature Reserve, the largest dry desert reserve in Xinjiang, is dedicated to the protection of wild Bactrian camels, which are even more scarce than the giant panda.
Fewer than 1,000 wild Bactrian camels live in the harsh deserts of China and Mongolia. About 600 of them - 60 percent of the global population - call the reserve home.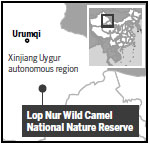 Lop Nur holds the mystery of the disappearance of Loulan, an ancient Silk Road civilization from the third century. It was also the site of China's first atomic bomb test in 1964. The area has been attractive to visitors who love adventure.
At travel website Qunar.com, a trip to Lop Nur costs more than 15,000 yuan ($2,400) per person. Each tourist must pay a 1,500-yuan "protection fee" to the reserve.
The tour lasts seven to 10 days. A tour guide, who also serves as the driver, will carry three tourists around Lop Nur.
Similar travel services are also offered at Ctrip.com and Fliggy.com at similar prices. Fliggy.com also offers guides for tourists who drive themselves. A guide costs 2,600 yuan per day.
Ctrip and Fliggy said on Thursday that they have taken such travel services off their websites.
Established in 1986, the Lop Nur reserve covers 61,200 square kilometers. It is overseen by the Xinjiang Department of Environmental Protection, which issued a rule earlier this month prohibiting any expeditions or tourists in the area reserved for Bactrian camels.
"Spring is the reproductive season for Bactrian camels," the statement said. "No organization or individual may enter the reserve for expeditions or sightseeing purposes." Violators will face fines and can even be held criminally liable, it said.
In November 2017, a fleet of 16 Land Rovers and 49 people were found driving through Lop Nur as part of a cross-country activity. The reserve imposed fines of up to 5,000 yuan on the company that organized the activity, and the 49 tourists were fined 5,000 yuan each.
An official at the reserve said on Thursday that the "protection fees" listed on travel website are being examined. She declined to provide more information. He Mang, assistant dean of the School of Tourism Management at Sun Yat-sen University, said the ecology of the reserve is vulnerable and illegal expeditions not only threaten wildlife but also destroy vegetation.
Expeditions into deserts also entail significant safety risks. Rescue missions require a lot of manpower and financial resources, he said.