Innovation at the heart of development
By Liu Zhihua | China Daily | Updated: 2018-05-24 10:01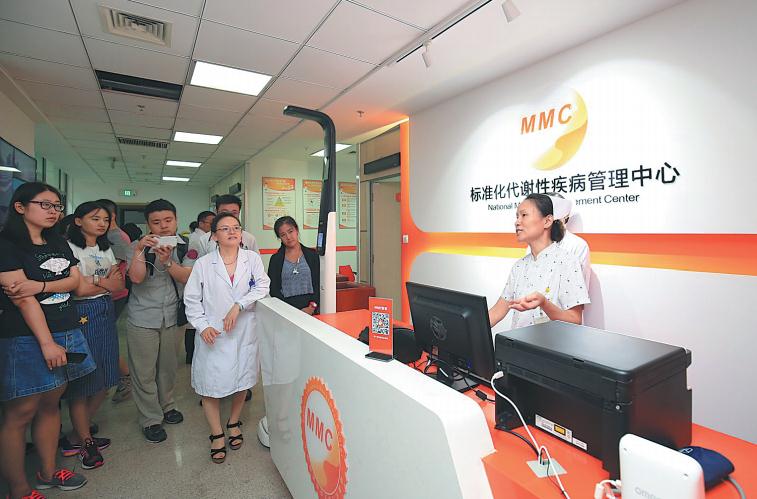 Editor's Note: This year marks the 40th anniversary of China's reform and opening-up. China Daily interviewed top executives of well-known multinational companies for their views on the country's socioeconomic development.
AstraZeneca is deepening cooperation with the government and local partners to help deliver better healthcare solutions for Chinese people
Please use three words to describe China's changes in the past 40 years.
Globalization: China's continuous reform and opening-up have enabled and accelerated its globalization. Today, China is a major engine for globalization and the country's rise has been by far the most successful story associated with the trend.
Innovation: China ranked No 22 in the Global Innovation Index 2017, strong proof of the rapid development of its technological innovation. Innovation has become a national priority, not only taking place in the technology area, but also in the policy framework, industry structure and business models.
Achievement: China has made significant achievements in improving people's lives during the past 40 years, in various ways. As the world's second-largest economy, China has also been a key engine for global economic growth.
What have been the biggest achievements in China since the introduction of the reform and opening-up policy 40 years ago?
Its fast and stable economic development has been one of the biggest achievements China has made in the past 40 years. Reform and opening-up have enabled the vast majority of Chinese people to have a much better quality of life. Today, China plays a more active role in world affairs and the continuous improvement of the country's innovation capacity is recognized around the world.
As a foreign pharmaceuticals company with roots in China for 25 years, we have benefited from reform and opening-up, and have took part in the changes taking place nationwide. AstraZeneca is already a localized foreign company with deep roots in China. We are looking forward to deepening our cooperation with the government and local partners to ensure a healthier life for every Chinese person, and to further promote China Innovation to benefit more people across the world.
What is the biggest challenge China faces today and how can the country overcome it?
With higher economic growth and personal incomes, people are demanding more and better healthcare. The need for precise, personalized and smart treatments via affordable and accessible healthcare services is increasing. This requires more input in the medical industry, wider cooperation among governments, hospitals and business, and continuous innovation. It also requires better training and improved R&D capabilities.
The central government has announced a series of healthcare reforms to establish a basic, universal healthcare system that can provide safe, effective, convenient and low-cost health services. The reform affects most facets of healthcare delivery, including health insurance, primary care, hospital management, medication and public health. China is also encouraging cooperation with foreign pharmaceuticals companies. All this involves better planning, coordination and cooperation, which is a big challenge.
How has your company benefited from the reform and opening-up policy?
The policy has removed hurdles to allow the introduction of new medicines and health innovations, meaning they can reach more Chinese patients faster. A strong recent example is the cancer treatment medicine Tagrisso, which was approved by the authorities in just seven months. It then went to market commercially in a mere 23 days following its approval. Last December, Tagrisso was also approved to be included in Zhejiang province's special medicine list.
To date, AstraZeneca has brought about 30 innovative drugs to China and has invested $750 million in pharmaceutical innovation in the country. AstraZeneca now has three operation facilities in China, including its Wuxi Supply Site, China Distribution Centre (Wuxi) and Taizhou Supply Site. By aligning with local political priorities such as Healthy China 2030, our investment in innovation is helping to address the challenges of chronic disease management and healthy aging, along with developing local life science capabilities.
With the opening-up of China, AstraZeneca has had the chance to build long-term partnerships with the country's academic, scientific and business communities, with the ambition to offer patients more quality medicines and complete disease solutions. The government has optimized a friendly business environment for foreign companies, and has opened wider for foreign investment and cooperation.
Has competition intensified between your company and Chinese companies?
China's macroeconomic growth has enabled local companies to make significant progress in many aspects, including the public health field. Instead of viewing local companies simply as competition, we see many opportunities for further collaboration with our partners in China to solve the most challenging problems in the healthcare industry.
In February, AstraZeneca announced the next phase of its partnership with Alibaba Group to further integrate AstraZeneca's internet of things-based health innovations into the country's emerging smart cities infrastructure.
In addition, AstraZeneca announced the significant expansion of its collaboration with Tencent's leading instant messaging platform. According to the agreement, the two companies will harness the power of big data-driven internet technologies to more accurately and effectively crack down on the online sale of counterfeit medicines. We will also work together to build a new model for online medicine safety management as part of a larger smart healthcare push.
How do you view China's role in the world today?
China has been the largest contributor to global growth in recent years. Even with slower growth, it will continue to be a major engine in maintaining global economic stability.
Also, China has a leading role in solving the worldwide challenges of poverty relief, environmental protection, generating green energy and improving national health. The government is working on providing affordable basic healthcare for all residents by 2020.
From our point of view, China has become a major market for health-related multinational companies. For Astra-Zeneca, China is our second-largest market in the world and is our significant future growth point.
It is also worth mentioning that China's Belt and Road Initiative has boosted cooperation and win-win development in many countries. Openness, inclusiveness and mutual benefit are the hallmarks of the Belt and Road Initiative.
Could China's experiences and practices be used to solve global problems?
China is already using its own experience and innovation capacity to provide global solutions.
The Belt and Road Initiative is a strong example. It embodies responsibility, win-win cooperation and genuine pursuit of common development, offers the world a Chinese approach to the challenges of today, and shares a balanced, equitable and inclusive development model.
Under this initiative, the innovation model of Astra-Zeneca's smart nubulization room, which is made in China, has been promoted in and has benefited Belt and Road-related countries such as Vietnam and Malaysia, with more than 350 nebulization rooms being implemented.
Apart from economic development, what progress in other fields have you witnessed in China in the past 40 years?
During the past few decades, China has digitalized very quickly. In the 25 years since AstraZeneca first entered the country, I have witnessed the company growing amid the ever-changing environment.
We see synergies with the digital China strategy. Last year, we signed a memorandum of understanding with Wuxi National Hi-Tech District and Jiangsu Mobile in the healthcare internet of things. We have also joined hands with China's technology giants Tencent and Alibaba to provide smart healthcare services driven by artificial intelligence and internet of things technologies.
The healthcare internet of things is a kind of restructuring in marketing. Together with related sectors such as hospitals, medical equipment and internet technologies, AstraZeneca aims to build a new health environment for everyone, one where all the necessary resources are integrated on one platform via big data. In the future, we hope to unite all like-minded people to build an internet of things for healthcare.
What measures are needed if China wants to deepen reforms?
In healthcare, accelerating the approval process for new medicines is essential. It is also necessary to improve the accessibility of medicines by improving the system of tiered medical services, strengthening training of general practitioners and further reforming the medical insurance system.
What will be the country's "calling card" in the coming years?
The country's efforts to build an innovative China are leading it to become a great innovative nation. We have promoted our successful commercial innovation experience in the country among the regions involved in the Belt and Road Initiative.
For the healthcare industry, the Healthy China 2030 strategy is an important national effort to engage in global health governance and implement the country's commitment to sustainable development. At AstraZeneca, we believe that we will see further input into the medical system reform process, greater promotion of scientific and technological innovation, and an expansion of international cooperation.
How does AstraZeneca adjust its strategies to cope with the fast changes in China and how do you view the business environment in the country now?
This year marks the 25th anniversary of AstraZeneca's establishment in China. Throughout that time, we have aligned with the government's policies and have held fast to putting innovation at the core of our development. We have supported, accompanied and witnessed the rapid development of China, helping to ensure the country's healthcare needs will be met.
Besides research and development, and operations innovation, we have also collaborated with the government and cross-sector partners as part of the patient-first China Business Innovation Strategy. We provide end-to-end integrated diagnosis and treatment solutions for patients, and help to establish an innovative healthcare ecosystem in which everyone benefits.
We have witnessed and benefited from the Chinese government's effort to build a more transparent business environment and foster a robust innovation ecosystem in life sciences. This includes taking action to strengthen market access, the talent pool and policy support. It is easier for foreign companies to do business today thanks to the implementation of the reform and opening-up policies.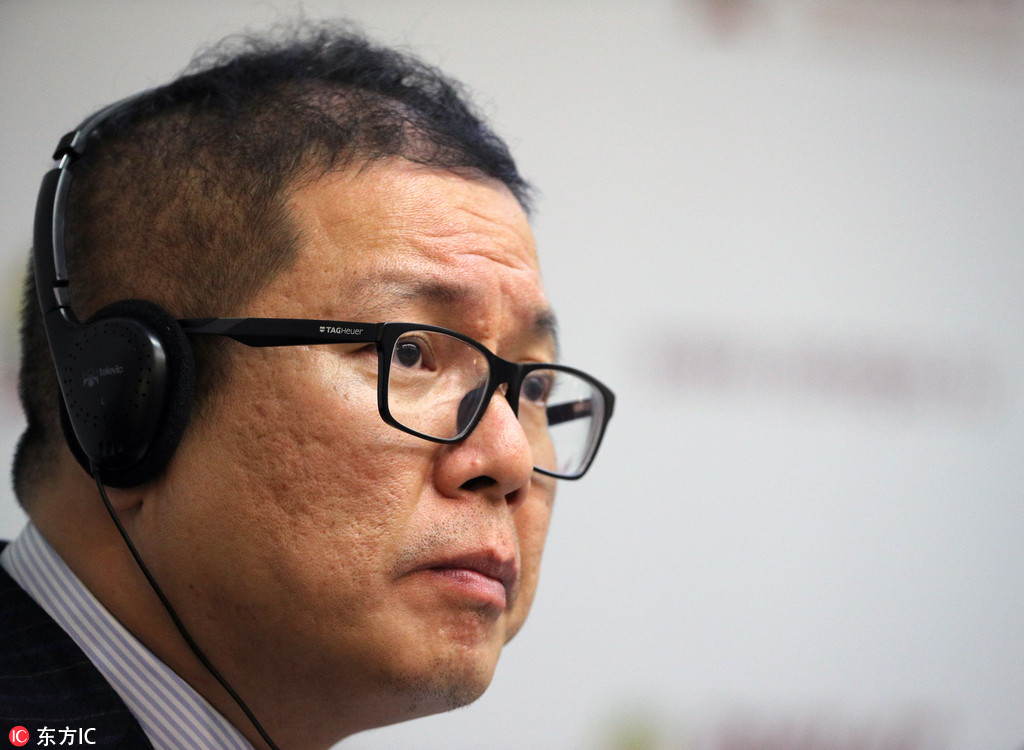 CV
Name: Leon Wang
Age: 46
Nationality: China
Career:
April 2017 until now: Executive vice-president international and China president, AstraZeneca
January-April 2017: Executive vice-president Asia-Pacific region and China president, AstraZeneca
November 2014-January 2017: President, AstraZeneca China
March 2013-November 2014: Vice-president for GRA BU, AstraZeneca China
April 2010-March 2013: Vice-president, Roche China
Education:
September 1990-July 1993: Bachelor of Arts from Shanghai International Studies University
March 2001-March 2003: EMBA from China Europe International Business School
Family: Married with a son