Suzhou projects its allure abroad
By Yang Feiyue | China Daily | Updated: 2018-06-04 07:43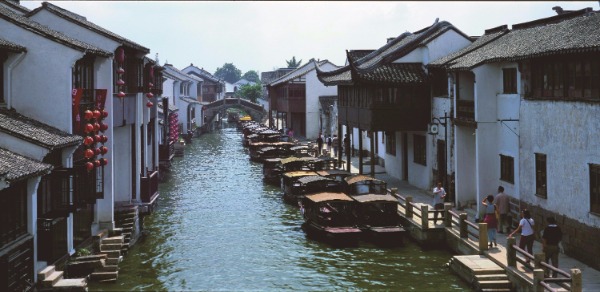 Jiangsu province's Suzhou has long been a celebrated national destination and, increasingly, an international attraction, in no small part because of concerted efforts to draw overseas globetrotters.
The number of annual visitors from abroad has continued to increase since 2014. Over 2 million arrived last year, 6 percent more than in 2016, the city's tourism bureau's deputy director Lu Feng says.
About 1.76 million spent at least a night in the city in 2017.
Japan, South Korea and the United States are the top source countries for visitors, Lu says.
Suzhou's tourism authority has launched a yearlong "Made in Suzhou" campaign that highlights the most distinctive local offerings, such as silk, local cuisine and art, in North America since June 2017.
Its social media accounts, including Facebook, Twitter and Instagram, have garnered nearly a quarter of a million followers and over 25 million hits on the continent.
"The United States and Canada have relatively large populations and relatively strong consumption power," Lu says.
And the exchange rate of the US dollar against the yuan has been relatively steady compared with the euro, he explains.
The city also began to make inroads in Europe last year.
"We want to show them that we have profound history and very distinctive culture and, at the same time, offer the most modern lifestyle," Lu says.
Suzhou's canal networks have earned it the nickname, "China's Venice".
Nine of its classical gardens are inscribed on the UNESCO World Heritage List, and 11 sites along the city's canals are on the UNESCO World Culture Heritage List.
Suzhou is about half an hour from Shanghai Hongqiao International Airport via high-speed rail.
Visitors can pick and brew tea at Taihu Lake's Dongshan Mountain in springtime.
Seasonal gourmet food is served year-round.
Foreign visitors enjoy visiting ordinary families' homes and learning how to make such local delicacies as wonton.
Some join interactive experiences with local artisans, such as making fans, cultivating bonsai and creating oil-paper umbrellas.
International visitors can also go backstage to watch Kunqu Opera performers apply their elaborate makeup and even try it on themselves.
Suzhou plans to work with travel agencies to develop customized tours for international visitors.
About 90 travel companies in North America offer 380 Suzhou packages, Lu says.
Indeed, it seems Suzhou will likely continue to attract more international visitors with its modern approach and ancient appeal.