On the road to quality urbanization
China Daily | Updated: 2018-06-19 07:09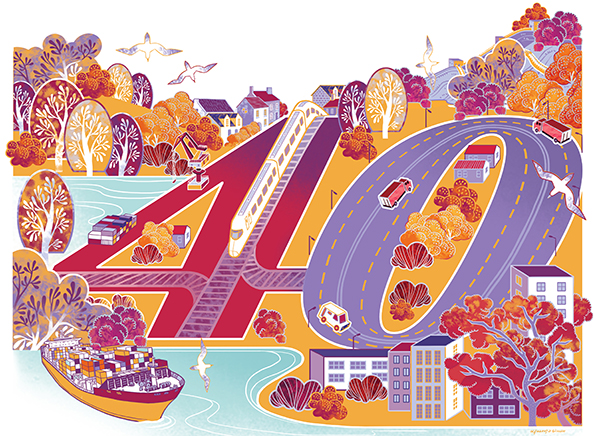 Editor's note: Following are excerpts from the speeches delivered by four senior scholars at China Urban Forum 100 in early June, which focused on "Four decades of Chinese cities' reform and opening-up":
Urbanization with Chinese characteristics

This year marks the 40th anniversary of reform and opening-up, and the Chinese leadership has emphasized they will continue to play a critical role in the economic development of China. Reform and opening-up, to a large extent, liberated China's social productive forces, which drastically changed China's urban and rural areas, improving people's lives and livelihoods. In this sense, urban development is the concentrated embodiment of the achievements of China's reform and opening-up.
During the four decades of reform and opening-up, China has experienced the largest and fastest industrialization and urbanization in the world. Many new cities have come up. And along with the major city clusters in Beijing-Tianjin-Hebei, and the Yangtze River Delta and Pearl River Delta regions, they have become growth poles of China's economic development and helped China to play a more active role in global economic cooperation and competition.
But rapid urbanization would not have been possible without the help of a large workforce, mostly from rural areas. This "transfer employment" increased the efficiency of urban and rural production factor distribution, and promoted the continuous and fast development of the national economy, leading to drastic changes in the social structure. Thus urbanization has become an important engine of China's modernization.
China's economic development has had a huge impact on the world, too. As China, whose population accounts for one-fifth of global total, transforms into an urban society, its level and quality of human development have remarkably improved. A country with more than 1.3 billion people has achieved a level of urbanization and industrialization in four decades that the Western countries took two centuries to realize.
China's urban development path with Chinese characteristics is based on Chinese thought, Chinese wisdom and the Chinese concept of progress. Experience shows that only by deepening reform and opening-up can China make greater achievements and cope with the challenges of urban development.
In the future, China's urban development should be based on Xi Jinping Thought on Socialism with Chinese Characteristics for a New Era because of the change in Chinese society's major contradiction, the increasing importance of innovation and coordination, eco-friendly policies, openness and development ideas, as well as the overriding significance of people-centered development.
We should improve our urban development pattern and urban management system capacity to meet the new challenges. By addressing the principal contradiction of "unbalanced and inadequate development and the people's ever-growing needs for a better life" and solving the problems arising out of the urban development process, improving the environment, and sharpening economic competitiveness, China can establish an urban development path with Chinese characteristics.