Rains lash Gansu; at least 12 dead
By HOU LIQIANG/MA JINGNA | China Daily | Updated: 2018-07-20 07:26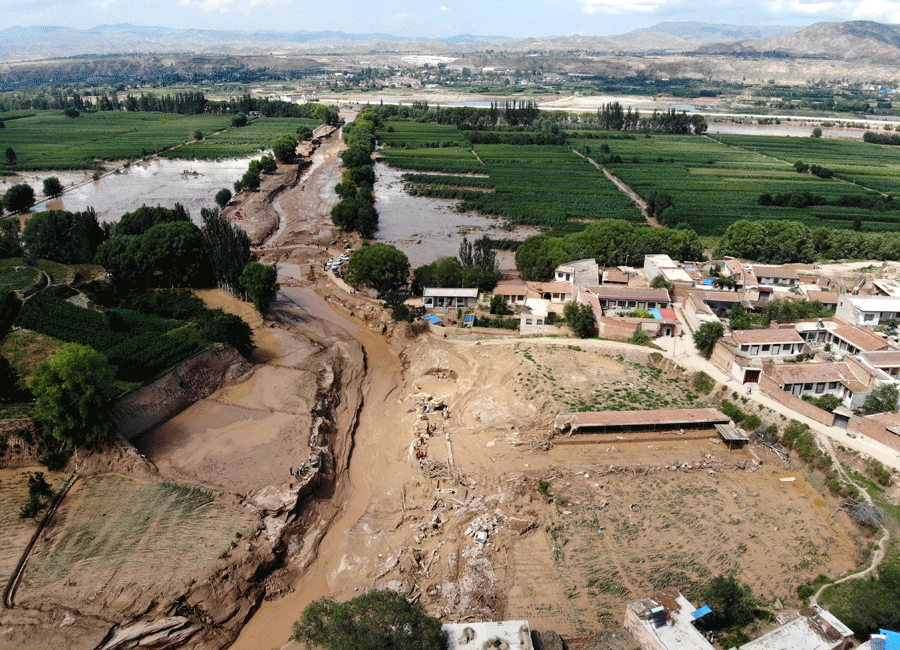 Torrential rain in Gansu province's Dongxiang autonomous county-which is sparsely vegetated and has many poor residents-had left at least 12 dead and another four missing as of Thursday, and the weather is continuing, local authorities said.
Thirty-nine people had been hospitalized as of 3:30 pm Thursday, after precipitation of up to 11.4 centimeters within three hours on Wednesday night brought a mountain torrent that destroyed their homes. The disaster resulted in direct economic losses of 320 million yuan ($47.2 million), the local government said.
It added that 2,444 people had been evacuated.
Twenty-eight houses collapsed and more than 1,500 others were damaged. Power, water and communication in some areas were temporarily cut off, as floods destroyed 211 sections of road and triggered landslides.
Almost 1,600 domestic animals were killed and about 435 hectares of farmland were flooded, it said.
All the injured were taken to local hospitals; those with severe injuries were transferred to hospitals in Lanzhou, it said. With sparse vegetation, water accumulates easily on the surface of the yellow soil in the county and quickly forms mountain torrents.
The local weather observatory predicted that rain will continue over the next three days, and 12 townships in the county will be at risk of landslides and moving debris.
The floods also caused direct economic losses of 36.6 million yuan in neighboring Guanghe county, where 1,875 people were affected and about 11 hectares of farmland were flooded.
Although neighboring Hezheng county, located upstream, saw as much as 16.6 centimeters of rainfall in places on Wednesday night, it bore the least losses. Seventeen houses were damaged in the county and all 50 families were evacuated.
All three counties are located in the Linxia Hui autonomous prefecture. The prefecture's disaster relief authorities sent 50 tents, 100 folding beds, 120 blankets and other disaster relief supplies to the county.
The Gannan Tibetan autonomous prefecture and Dingxi city in Gansu were also hit by downpours. Gansu's flood control authority launched a Level IV emergency response plan, the lowest of a four-tier disaster response mechanism, before dawn on Thursday.