Temple of Heaven celebrates 100th anniversary of opening to public
Xinhua | Updated: 2018-07-20 20:30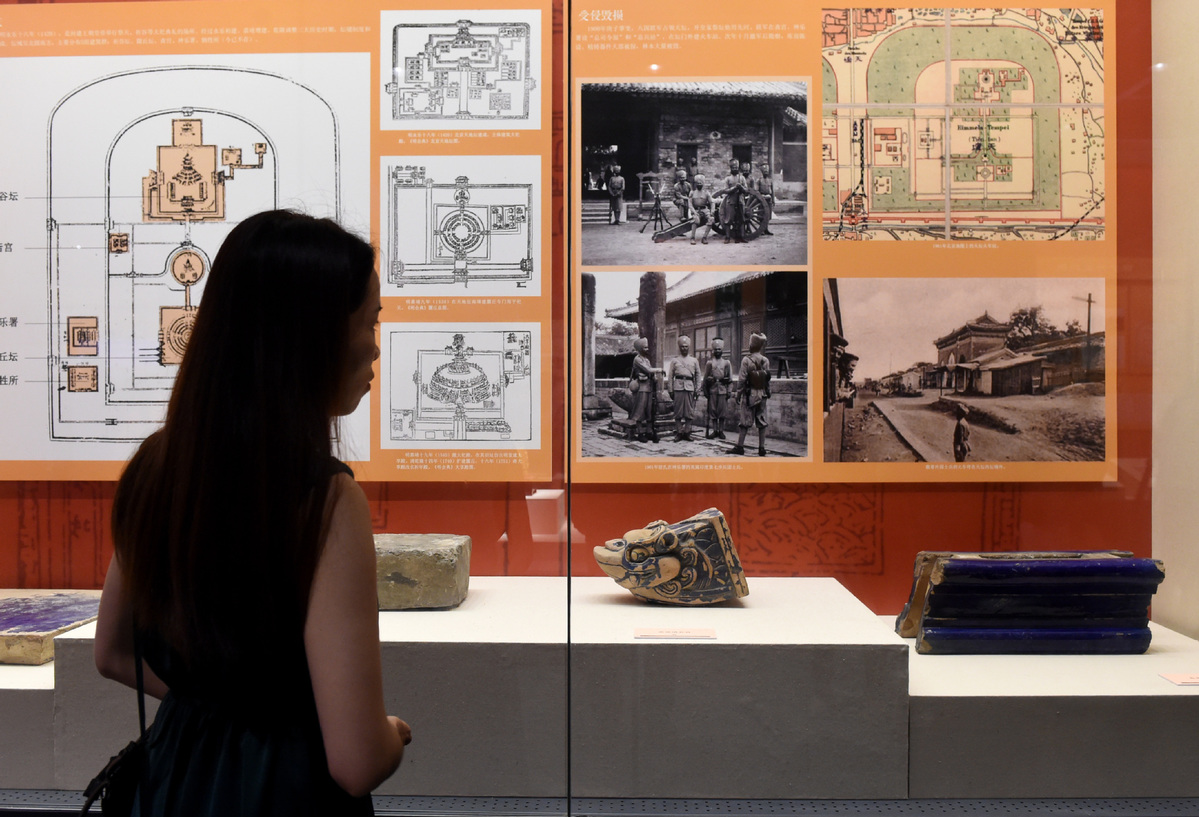 BEIJING - The Temple of Heaven, a 600-year-old royal altar and a UNESCO world heritage site, celebrated its 100th anniversary of opening to the public on Friday with an exhibition covering its history.
The exhibition, with 217 items and over 300 pictures, presented the temple's history of transitioning from a royal altar to a public park.
Built in 1420, the Temple of Heaven was where Ming and Qing Dynasty emperors worshipped heaven for good harvests. It was turned into a public park in 1918 after the demise of China's final dynasty.
2018 also marks the 20th anniversary of its inclusion in the UNESCO world heritage list.
"We hope to prompt the dissemination of our cultural legacy, and to attract people's attention to treasure our traditional culture," said Li Gao, head of the Temple of Heaven Park during the opening ceremony.
"This exhibition also shows China's achievements in the protection of our cultural heritage and the promotion of the park's landscape," said Li.
Before 1918, the temple was an off-limits royal sanctuary. The temple received nearly 20 million visitors in 2017.
"Compared to my first visit here in the 1990s, there are a lot of changes," said Yin Changju, a tourist from Hebei, who came to the temple with his granddaughter. "There weren't as many exhibitions back then, and the displays are better maintained."
His 9-year-old granddaughter said she was most impressed by the golden bell in the middle of the hall. The bell, together with 15 other lost bells, was looted by the British army in 1901 and then displayed in an army club in India. The bell was returned to China in 1994.
Restoring the completeness of the Temple of Heaven is one of the most important requirements when it was listed as a UNESCO world heritage site. As of July, 26.4 percent of the total area of the temple is still occupied by residential apartments and government institutions. The park administration aims to demolish all extraneous constructions and reinstate its former appearance by 2030, according to Li.
Located in southern Beijing, the Temple of Heaven covers an area of 270 hectares, and is one of the largest existing architectural complexes in the world, with a collection of over 12,000 artifacts.