Senior man travels on bicycle for 109 days
By Zhang Yu in Shijiazhuang | chinadaily.com.cn | Updated: 2018-07-20 19:59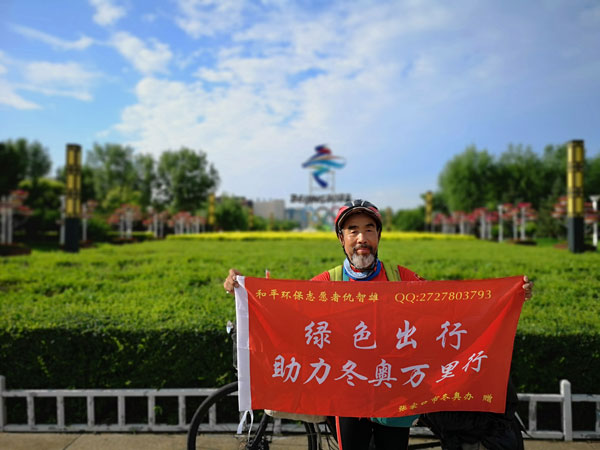 A 70-year-old man completed a 109-day journey by riding a bicycle from his hometown Shijiazhuang to Zhangjiakou in North China's Hebei province.
"The aim is to welcome the 2022 Winter Olympic Games - to be held in Beijing and Zhangjiakou - by promoting the idea of environmentally friendly ways of traveling," Chou Zhixiong told hebei.com.cn.
Chou fell in love with travelling by bicycle a decade ago when he participated in a 5-day cycling event around Qinghai Lake in Northwest China's Qinghai province.
"At the time, I tried different ways of exercise to strengthen my body, such as swimming and fast-walking. But none of them attracted me except for cycling," Chou said.
Since then, Chou has traveled more than 80,000 kilometers with his bike.
He has visited 25 provinces in China and also a dozen of other countries, including Vietnam, Thailand, Cambodia, Laos, Nepal, Mongolia and South Korea.
Most of his trips were done alone, while for some he was accompanied by other biking travelers.
"I am happy when I am traveling, enjoying amazing scenery and witnessing important events," Chou said.
He added that many of his diseases that had been annoying him disappeared after he started cycling.
One of his passions is to always promote the idea of green Olympics. Wherever he went, he always brought a flag that had this written on it: Cycling for Green Olympics.
Like many other travelers, Chou would bring a diary book to record his daily activities, weather, locations and also stamps of different places.
"That's my thing. I'd rather die on road than die from diseases on bed," Chou said.
Zheng Shifan contributed to the story.